Tougher laws needed to strengthen women's rights at work
More robust laws are needed to improve employment equality, particularly as women have born the brunt of the fall out of the pandemic, Sara Lewis, vice-chair of the NUJ's Equality Council told the TUC's Women's Conference.
"The NUJ recently surveyed our members on the pandemic. Women in particular reported struggling to work from home while juggling childcare, home schooling and other caring responsibilities. Our members reported unsympathetic bosses and little flexibility or support. Many were told to take annual or unpaid leave to care for their children."
Her NUJ colleague Ann Galpin, also on the council and a member of the TUC's Disability Committee, said:
"Intersectional issues mean that disabled women, black women and other minority groups face multiple disadvantages that will create long lasting and deeper inequalities than they already experienced before the pandemic.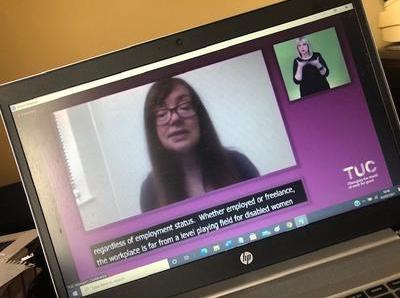 "Disabled women face double discrimination. They are less likely to have a paid job, and when they do they experience a substantial pay gap: 9 per cent less than non-disabled women and 36 per cent less than non-disabled men."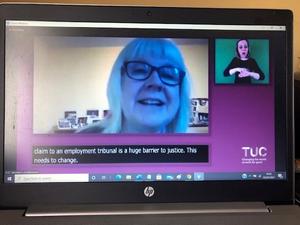 Sara brought the proposed EU directive on pay transparency to the attention of conference, quoting commission president Ursula von der Leyen who said that "for equal pay, you need transparency". That is why the NUJ – unlike the government – had supported Stella Creasy's Private Members' bill, to end the shameful situation where six out of 10 working women do not know if they are paid less than their male counterparts.
Sara said the milestone anti-discrimination Equal Pay Act, now more than a decade old, needed updating and sharper teeth because there are too few sanctions when it is breached. She said:
"The three-month time limit to bring a claim to an Employment Tribunal is a huge barrier to justice. This needs to change. As the #MeToo movement has clearly shown, it can take a long time for women to report incidents. The NUJ also has evidence of employers delaying internal investigations, deliberately putting victims outside the time limit."
Speakers at conference said women were discriminated against while they were pregnant and called for support for Maria Miller's Private Members' Bill, also not back by the government, to prohibit redundancy during pregnancy and maternity leave and for six months after the end of the pregnancy or leave. Sara said the NUJ supported the TUC's campaign to give parents and carers the right to access the furlough scheme temporarily:
"However, what is really needed in the long term is a permanent system of paid parental leave and more flexible working for both employees and freelance workers. Sisters, a fair and equal workplace is our right and we will not rest until we get it."
Ann said employers and trade unions need to be more proactive in linking equalities to the health and safety agenda to keep women safe at work, whether home or office based. She said:
"Our NUJ all-member survey published in January revealed that eight in 10 disabled members had not had reasonable adjustments organised through their workplace since the start of the pandemic. Now is the time for unions to remind employers they can't shirk their duties; failure to make reasonable adjustments for disabled workers is unlawful discrimination."