The NUJ's policy, objectives and campaigning priorities are decided at the NUJ conference – the delegate meeting (DM).
The NUJ is a democratic union: all members can influence policy. NUJ DM is the union's main policy-making body. Since 2014, DM normally happens every two years.
All members are entitled to attend branch meetings and branches can submit motions and amendments to conference. A member can also volunteer to attend DM as a delegate and speak and vote on behalf of the members they are representing.
Delegates can speak in debates, vote and ask questions. If a motion is passed, it becomes union policy. To prepare for DM, branches hold a special meeting or meetings to discuss arrangements for the conference.
The conference also scrutinises the union's accounts and reviews reports from each sector and body of the union contained within the Report to Delegate Meeting.
During the DM conference, industrial sectors normally organise conferences to set priorities and exchange information about recent activity and specific issues affecting members working in their own sectors.
Delegate Meeting 2021
DM2021 took place between 17 May and 22 May 2021.
DM2021 video playlist
During the week of DM2021, the union held a series of evening meetings, all of which are now on Youtube and accessible via the playlist below. The playlist also includes the video celebrating the NUJ's new members of honour that was played during the conference.
Click on the icon in the top right of the video below to see all videos in the playlist.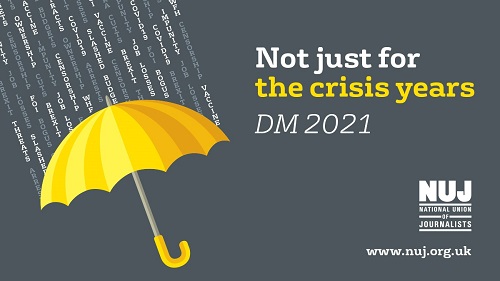 Past conferences