The BMC is chaired by Tony Adams. It monitors discrimination in employment practices in the media industry, promotes best practice, and works with NUJ members in chapels and branches.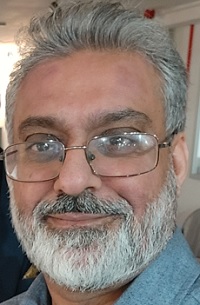 I'm a freelance Investigative journalist and broadcaster with over thirty years' experience both within the BBC and the commercial radio sectors, specialising in news and current affairs and court reporting.
I know the challenges ahead in these turbulent times are many but confident my perspicacity, negotiation skills and union experience will keep me steadfast as the new chair of the BMC.
I'm a trade union and human rights activist and the National Union of Journalists Chair of the Birmingham and Coventry Branch, also the NUJ chair of the Black Members Council, the NUJ's regional representative of the midlands Trades Union Council and also member of the International Federation of Journalists (IFJ); my work consists of challenging the rhetoric and narrative of media conglomerates, impunity, protecting union gender rights, implement proportional representation, promote inclusivity and diversity and uphold the NUJ code of conduct and conventional journalism ethics.
The council celebrates and supportes the George Viner Memorial Fund , which provides bursaries for Black, Asian and minority ethnic journalism students. The council works to support initiatives to increase the diversity of newsrooms and representation of people of colour in the media. The BMC traditionally holds an event based on issues close to our member's hearts. This year we will focus on issues such as racism in the media, giving members the opportunity to share experiences with the union and network. Last year we hosted an online event on World Racism Day.
The council is also responsible for representing the union at the TUC Black Workers' Conference and will be sending representatives and putting forward motions to inform the TUC's campaigns and policies. We issue statements, such as our reaction to the killing of George Floyd and the Blacks Lives Matter movement. We support Black History Month, Stand Up to Racism and the anti Zwarte Piet campaign in Holland.
The BMC monitors discrimination in employment practices in the media industry and promotes best practice. We have produced the Race Reporting Guidelines , which help members when they are writing about race relations and suggest the best language to use. The BMC supports the notion that NUJ members have a responsibility to stop racism being expressed in the media. Motions at Delegate Meeting set out the agenda for the council's two-year session and present action includes boosting diversity in the photographic industry; recruitment of black journalists; combating racism in the industry and defending the rights of refugees and migrants.
The BMC organises the Claudia Jones Memorial Lecture in honour of the West Indian journalist and activist. This year marked the 20th anniversary of the Claudia Jones lecture, with guest speaker Gary Younge.