TUC Women's conference 2022
NUJ delegates addressed conference on several motions, including on online attacks on women journalists, equal pay and domestic abuse.
Chairing this year's conference, Jane Stewart from Unite the union reflected on the disproportionate impact of the pandemic on women. Combined with the financial difficulties caused by the cost of living crisis and gender-based violence women experience, she highlighted the importance of the trade union movement in advocating for women across a range of issues.
The NUJ delegation to conference was Natasha Hirst, Ann Galpin, Raj Ford, Kathryn Johnston, and Cristina Lago with Sara Lewis as reserve delegate.
First to speak on behalf of the NUJ was Raj Ford addressing attendees as a first-time delegate. Had conference taken place in more familiar in-person settings many can recall, there is no doubt applause would have been heard from a packed audience keen for more detail on the motion exploring women's health in workplaces.
She said:
"Employers have come a long way in bringing in family friendly policies for both men and women with caring responsibilities but have largely ignored the health needs of the older female workforce.

"The NUJ calls on all broadcasters and the media industry to pioneer new practices, provide awareness training, and shed the prejudices associated with the employment of older women."
Moving the NUJ's motion on "protection of workers who do late shift work", Kathryn Johnston highlighted a new safety survey by the DCMS, Society of Editors and the NUJ, aiming to capture journalists' experiences of online threats and physical abuse.
She said:
"I've been stalked, threatened and abused like so many and as trades unionists, we need to insist that employers extend their duty of care to those working for them, particularly women, and address our concerns that our journey to and from work could be unsafe at night."
Kathryn Johnston also remembered her friend and colleague Lyra Mckee, who was killed after being shot at a riot in Northern Ireland.
Motions on sexual harassment and the workplace, flexible working and femicide were carried. Speaking to the motion on femicide provided an opportunity to call upon the wider trade union movement to support the work the NUJ is doing to improve diversity in the media.
Conference also heard from the Union of Shop, Distributive and Allied Workers union about the detrimental impact of automation on women's work. Sexist remarks targeted at women supermarket staff operating self-scan checkouts are having a negative impact on the mental health of individuals. Speakers highlighted that where automation could lead to lower costs and increased productivity, fair pay for staff must remain a priority, and always come before profit.
Speaking to the Prospect motion on mental health in tv and film, Ann Galpin highlighted the impact of income insecurity, long hours and demading workloads on individuals. She said:
"Mental health is a collective trade union issue and the Film and TV Charity's survey finding that 90 per cent of off-screen film and TV workers experience mental distress at work, reinforces just how important it is."

"We must ensure that all workers and freelances have access to the support they need to protect their mental health; and that the collective weight of our unions holds employers to account."
Cristina Lago considered the plight of women media workers "badly affected by the lack of equal pay" as seconder to UNISON's motion on equal pay. She referenced the landmark case of BBC presenter Samira Ahmed, who in January 2020 supported by the NUJ, won an equal pay victory against the BBC for being paid six times less than her male counterpart. Calling on conference to support the motion, she said: "we must continue campaigning to make it compulsory for employers to also publish their ethnicity and disability pay gaps, and to extend the reporting to companies of any size."
On the final day of conference, Natasha Hirst proposed a motion submitted by the Musicians' Union on mothers and parents in the music industry. Asking delegates to support the motion, she highlighted similarities with the NUJ and its large proportion of freelance members aware of challenges in managing family and caring commitments. This motion was carried.
Throughout conference, issues impacting freelances were raised by the delegation on several motions, and conference was used as an opportunity to highlight key challenges for our industry, with delegates promoting the News Recovery Plan.
Messages on the importance of solidarity among trade unions including those internationally, were shared by delegates throughout conference. Ensuring the union movement encourages activism of women, challenges stereotypes, and recognises the disproportionate impact of some policies on different women groups must continue.
Speaking on composite motions on "solidarity with women and girls in Afghanistan" Natasha Hirst said:
"I am immensely proud of my union for our response to the crisis in Afghanistan. We dedicated staff resources liaising with the IFJ to provide practical support, assistance and solidarity, and we continue to do so."
Jane Stewart thanked delegates for their participation in the online conference and shared her hopes of attendees meeting in-person to debate.
NUJ conference motions
motion 15: online attacks against women journalists (carried)
motion 17: protection of workers who do late shift work (carried)
NUJ amendment to motion 13: femicide was carried
The NUJ delegation included three first time delegates. They spoke on thirteen motions, proposing two by the NUJ and another from the Musicians' Union. The NUJ seconded two further motions and proposed one amendment. Natasha Wright was elected at Delegate meeting but could not attend the conference.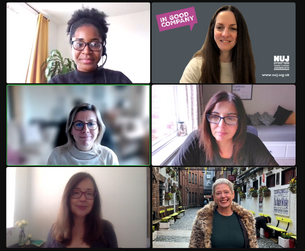 NUJ delegates to women's conference and Bea Adi, NUJ senior campaigns and communications officer.