TUC LGBT+ conference, 2022
Delegates backed an NUJ motion in support of the BBC and Channel 4, and the conference's main theme was trans rights.
An NUJ motion calling on the union movement to campaign to protect the BBC's funding and universal offering and to oppose the privatisation of Channel 4 won unanimous support from this year's TUC LGBT+ conference in London. The motion said:
"Channel 4 has been a champion of LGBT+ issues – in both its factual output and in innovative, challenging dramas such as It's a Sin. The BBC has also – across radio, television and online – introduced LGBT+ coverage and representation in mainstream broadcasting, including appointing an LGBT+ news correspondent."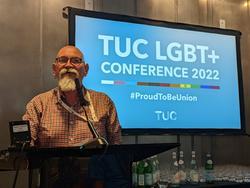 NUJ delegate Adam Christie told the conference it was frightening that two of the UK's biggest public service broadcasters were simultaneously under attack from the government. He said: "The creative industry is one of the UK's successful sectors and especially since Channel 4 moved its headquarters to Leeds, a boost to jobs in Yorkshire."
He added that the BBC was far more than the Today programme on Radio 4 and Newsnight, there was also the 40 local radio stations in England, plus national services for Wales, Scotland and Northern Ireland, the language services of BBC Cymru and BBC Alba, the World Service and Asian Network all providing an essential service. The motion was seconded by Equity.
Adam said the threat to the public service broadcasters would also have an impact on all the other creative sector unions including Equity, the Musician's Union, the Writers' Guild of Great Britain, and the Bectu sector of Prospect.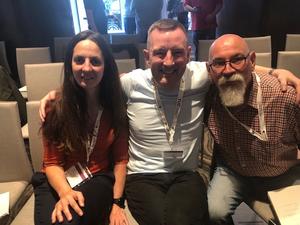 The main theme of the two-day conference leading up to the fiftieth anniversary of London Pride on the Saturday, was the rights of trans and non-binary workers. A number of motions highlighted the high level of workplace discrimination experienced by trans people, with almost half reporting being bullied or harassed at work according to TUC research. The research found that just one in four managers said that they had a policy setting out support for trans (including non-binary) workers who wished to transition to live as another gender.
The poll of around 1,000 HR managers – run for the TUC by YouGov – also found only one in eight employers monitor their LGBT pay gap and one in five (21 per cent) workplaces did not have specific policies to support their lesbian, gay, bi and trans (LGBT) staff.
The most recent research suggests there is a 16 per cent LGBT pay gap, meaning LGBT workers are effectively paid £6,703 less per year. The TUC said ministers must introduce a statutory requirement for large employers to report their LGBT pay gaps and employment rates.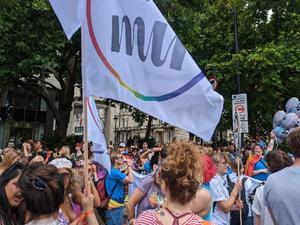 Delegates voted for motions which called on the TUC to produce guidance which affiliates could use with their employers to support trans employees and promote trans equality in the workplace, and to lobby the government to ensure that policymakers, equality organisations, employers and service providers can better promote equality and inclusion for transgender and non-binary people.
The conference heard from delegates who said they had been forced to wear gender-specific uniforms, made to use the "wrong" toilets and called their "deadnames" at work. More education in the workplace was needed – one delegate described how her manager had thought she was "de-transitioning" because she came to work in jeans and a jumper and not wearing make-up. Unions also needed to raise their game; one delegate gave an emotional speech about not being given adequate support.
In her speech to conference, Frances O'Grady, TUC general secretary, said:
"Trade unions believe our diversity is our greatest strength. And that is why we must address anti-trans prejudice head on. Not just by holding government to account for its failure to make progressive reforms to the Gender Recognition Act. Not just challenging vilification tactics straight out of the Section 28 playbook from the 1980s. But organising internationally against the far right, the radical right, and the religious right."
NUJ vice-president Natasha Hirst seconded an emergency motion calling for an end to the stigmatisation of the LGBT+ community, especially in the reporting of health and in particular the reports linking the spread of monkeypox to gay and bi-sexual men. She said the NUJ was in solidarity with the motion but also called on delegates to have solidarity with the NUJ in its efforts to protect standards of journalism.
Supporting non-binary workers: an interactive guide for union reps
The NUJ is supporting Pride 2022