Pride 2022
The NUJ has been supporting this year's Pride events and is attending the TUC LGBT+ conference this week
The NUJ delegation at this week's TUC LGBT+ conference will be seeking support and solidarity from the trade union movement for our motion to protect public service broadcasting.
The motion highlights that the BBC has introduced LGBT+ representation into mainstream broadcasting and Channel 4 has championed LGBT+ issues through its factual output and innovative commissioning. The NUJ is calling on union colleagues to protest against the proposed privatisation of Channel 4.

The conference also provides an opportunity for us to highlight the threats facing LGBT+ journalists in the UK and Ireland, and beyond.

Natasha Hirst, NUJ vice-president said:
"NUJ members work across the world, including in countries where it remains unsafe to be LGBT+. As we seek to protect our members' rights and safety wherever they work, we also stand in solidarity with LGBT+ journalists and communities who continue to experience discrimination and violence.


"We encourage members to build inclusive workplaces, chapels and branches and wish everyone well as they take part in this year's Pride celebrations. Pride brings people together in celebration of our diversity and provides a platform to protest against the continued injustices and inequalities experienced by LGBT+ people."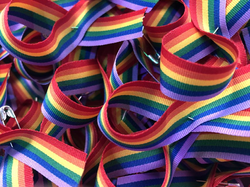 On Saturday 2 July, London Pride will be calling on the UK government to ban conversion therapy for all LGBT+ people; to provide equal protection for LGBT+ communities against hate crime by making homophobic, bi-phobic or transphobic hate crime an aggravated crime in line with racial and religious hate crimes; end its hostile environment toward minority migrants; establish a national AIDS memorial; and to take a leading role in tackling the violence and discrimination against LGBT+ people around the globe. It will also be a joyful celebration of diversity.

Last week, the NUJ took part in Pride events in Dublin, including a series of webinars on trade unions and their support for LGBT+ rights in Ireland, with speakers including Seamus Dooley, Irish Secretary.
The NUJ's LGBT+ network holds meetings with guest speakers to discuss issues of interest to our LGBT+ members. If you self-define and would like to receive notice of meetings, please update your online profile through the NUJ website.
If you are interested in our wider equalities work, please email [email protected] to be added to our equality, diversity and inclusion network.