NUJ demands an end to attacks on journalists
The union condemns the attacks and demands an end to hostility and harassment.
The National Union of Journalists (NUJ) has condemned the escalating attacks on reporters and photographers and demanded an end to hostility and harassment that is undermining press freedom at a time when journalistic scrutiny is needed more than ever.
During the Black Lives Matter protests in London on Wednesday, several separate incidents took place in which journalists and camera crews were attacked and threatened, including an attack on an Australian presenter when she was live on air.
The NUJ has also received reports from photographers about unacceptable and abusive behaviour from police officers on duty at the protests, including pushing, shoving and verbal harassment, and is raising concerns directly with the National Police Chiefs Council.
The NUJ calls on participants and the organisers of forthcoming protests and UK police forces to respect the vital role of journalists and media workers and their right to carry out their work safely, without interference, and free from intimidation or fear of physical attack.
Michelle Stanistreet, NUJ general secretary, called for better political leadership to stamp out escalating hostility to journalists:
"Attacks on journalists are on the rise, in the UK and around the globe. Unfettered journalism is a vital part of our democracy. Political leaders must do more to stem this spiralling antagonism and act to stamp out attacks on journalists, who play a vital role in the spectrum of essential public services. Sadly, it's clear that some leaders are a part of the problem.
"When the US President decries journalists as enemies of the people, when he launches vitriolic attacks on the 'lamestream' media, when he talks of journalists as being part of a conspiracy against the public to disseminate fake news – this pollutes political and public discourse and fans the flames of hatred.
We're seeing the same pattern of polarisation here, particularly on social media where bullying and intimidation of journalists is commonplace, with particular vitriol directed against women and journalists of colour. Words have consequences. Intemperate and polarised rhetoric on social media has real-life results.
"These attacks are also taking place at a time when we've seen petty attempts by government officials to frustrate the work of reporters and photographers and impede journalistic access – the movement of lobby correspondents to Number 10, the banning of reporters from press briefings, the attacks on so-called 'campaigning newspapers' and the repeated briefings of un-named sources designed to undermine stories and dismiss them as 'fake news'.
This is a dangerous game to be playing and one that demeans those who engage in such behaviour – those in positions of power and charged with public office should be supporting journalism and protecting the ability of journalists to do their jobs, not undermining them."
NUJ member and union rep Amy Fenton knows all too well the dangers of online and offline abuse and its real-life impact, moving her family to a secret location after being bombarded with death threats and harassment, including against her young daughter, in the course of carrying out her job as Newsquest's chief reporter in South Cumbria. She said:
"I've received in excess of 100 death threats and threats of unlawful violence – and there have been countless more which have been reported directly to the police by my colleagues… Not only have they threatened to 'throat punch' me, slit my throat, and set me on fire, but they have involved the welfare of my little girl and that is beyond acceptable. As a journalist I won't tolerate anyone threatening me but as a mum I won't tolerate anyone putting my daughter's life at risk."
Last month, the NUJ spearheaded a coalition of publishers, editors, trade unionists and politicians in Northern Ireland to publicly condemn violent threats made against newspaper journalists and staff. Attempts to intimidate journalists have come from dissident Republican and Loyalist paramilitary groups and are intended to prevent the media from investigating their activities and exposing criminality. It is vital that such behaviour is not tolerated and that the perpetrators are brought to justice.
The UK government has committed to establishing a new national committee for the safety of journalists with an associated action plan, the NUJ is calling for the government to urgently engage and include the union in this vital work.
The NUJ is also seeking cross-party political support for the International Federation of Journalists' draft UN Convention on the Safety and Independence of Journalists and other Media professionals.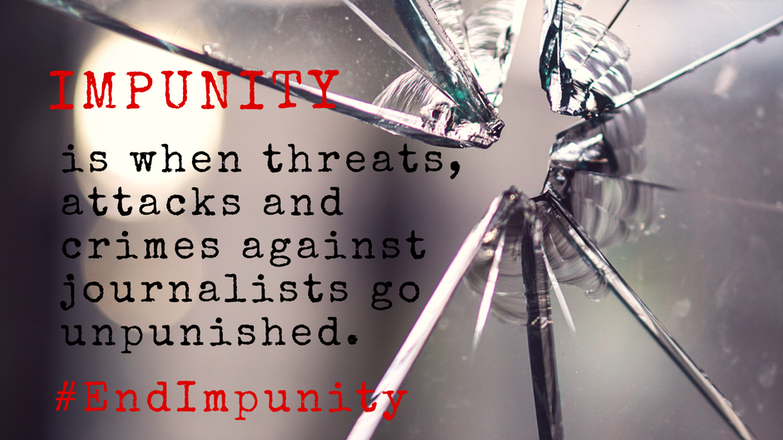 To fight against impunity, the International Federation of Journalists (IFJ) proposes a new United Nations Convention aimed at giving greater protecti...