International Convention on the Safety and Independence of Journalists and Other Media Professionals
To fight against impunity, the International Federation of Journalists (IFJ) proposes a new United Nations Convention aimed at giving greater protection for journalists and journalism in face of a tide of violence and threats.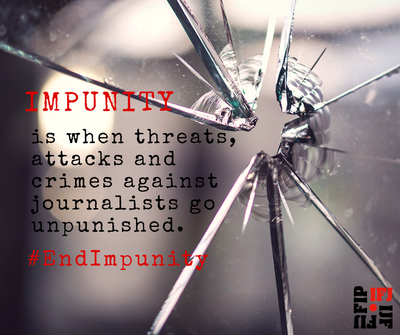 The Convention would for the first time establish binding standards creating safeguards specifically for media professionals.
The new instrument would provide a helpful codification of all applicable rules in one instrument, bringing together both human rights and humanitarian law provisions.
It would include: the obligation to protect journalists against attacks on their life, arbitrary arrest, violence and intimidation campaigns, the obligation to protect against forced disappearances and kidnapping (by state agents or private actors), the obligation to carry out effective investigations into alleged interferences and bring the perpetrators to justice; in the context of armed conflict, the obligation to treat media workers and facilities as civilians (and hence illegitimate targets) and to conduct military operations with due diligence.
Visit