Challenging time ahead for media industry & NUJ
NUJ general secretary writes for the latest edition of MediaNorth.
Predicting the shape of our media once Covid-19 recedes must surely count as a known unknown. The challenges and fault-lines in the media industry have accelerated as this crisis has deepened – declining advertising revenue, the shift to digital, starved resources, and mounting pressure on smaller print titles whilst a funding crisis beckons at the BBC. One thing is undeniable – demand for dependable accurate news, and a thirst for information, has sky-rocketed.
Such uncertainty provides an opportunity for a progressive refashioning of the news landscape. Shaping that process and reimagining a future media where quality ethical journalism is prized is an NUJ priority. Public bail outs for publishers today have to come accompanied by a commitment to serving the public in the future.
When lockdown began, our first priority was safeguarding members' income and livelihoods. Working with our sister unions in the creative industries and the TUC proved highly effective in joining forces to push for a fiscal support package for our freelance members. While there remain disturbing shortcomings with both the employees' furlough scheme and the self-employed support, for many journalists these represent the difference between belt-tightening uncertainty and actual destitution.
Since the outset of the crisis, the NUJ has participated in weekly telephone conferences with the secretary of state at DCMS, treasury officials and senior chief constables in the UK, with similar engagement in Ireland, Wales and Scotland.
Top of the NUJ's agenda has been ensuring that journalists can work unobstructed, despite the unprecedented controls on free movement. To date, this has been effective. At the union's insistence, reporters and other media workers were given 'key worker' status from the outset, enabling critical access to childcare and an acknowledgement that the role of journalists was going to be vital in covering the impact of this unfolding pandemic on our lives.
We also resisted proposals from government and some publishers for a secondary form of press accreditation. The UKPCA card remains sufficient to prove that you are a legitimate news gatherer.
On a daily basis the NUJ's team of officials has been liaising with employers – many of whom were quick to adopt a 'never waste a crisis' approach and take advantage of the opportunities to avail themselves of government funding, and implement pay cuts to eke out their cash reserves. Working with our chapel reps, the message has been one of ensuring engagement and respect for collective agreements in challenging circumstances.
Government financial assistance notwithstanding, lockdown has hit many of our members hard. From the outset, the trustees of our charity, NUJ Extra, readied themselves for heightened demand. They did this against a backdrop of dramatic stock market turbulence affecting the investments on which the charity depends. Our message to members was clear – the NUJ has your back.
Lockdown has also had a profound impact on the NUJ's own work. All four union offices have been temporarily closed, and all of our staff are now working from home. They've collectively focussed on ensuring the union can keep working with as little interruption to services for members – at a time when calls for assistance is higher than ever – whilst we got new processes off the ground. Their efforts mean that members continue to receive gold-standard support at a time of great need.
We will survive this, the greatest public health crisis in living memory. Our aim should be to emerge with a media more resolutely oriented to serving the public interest than ever before.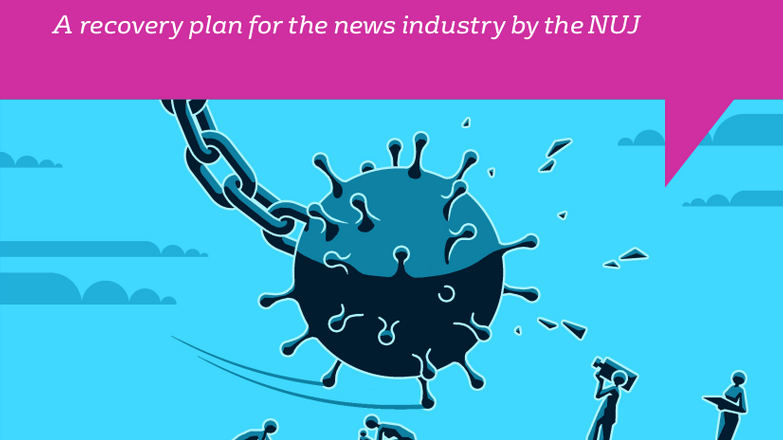 A recovery plan for the news industry by the NUJ.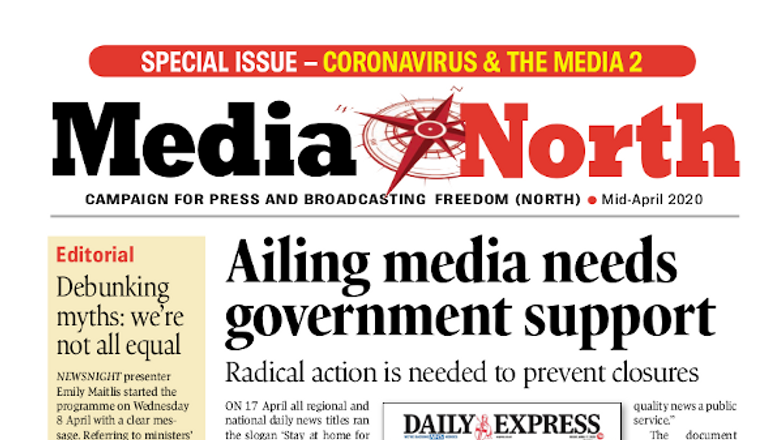 MediaNorth is the quarterly publication of the Campaign for Press & Broadcasting Freedom (North), which covers the North West, Yorks & Humber and Nort...