Media North: Coronavirus & the Media 2
MediaNorth is the quarterly publication of the Campaign for Press & Broadcasting Freedom (North), which covers the North West, Yorks & Humber and North East of England.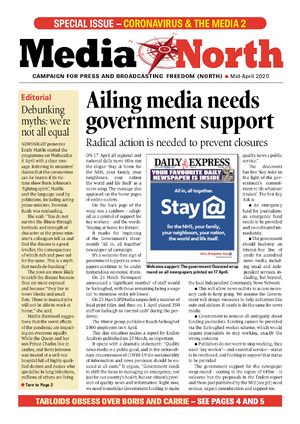 Special Issue – coronavirus & the media 2 including:
Ailing media needs government support
Challenging time ahead for union by Michelle Stanistreet
Danes take action to protect media by Mogens Blicher Bjerregård
Reporting from the labour frontline
NUJ launches news recovery plan to reinvigorate industry
Tabloids obsess over Boris and Carrie by Nicholas Jones
Where is our media when you want them? by Len Holden
Ofcom and misinformation
Inquiry deadline changed
A tidal wave of lies and misinformation by Gary Herman
It's time to buy It's the Media, Stupid!
Download the resource