NUJ members condemn targeting of journalists
"Don't shoot the messenger" event highlights need for a 'cultural change' as members stand in solidarity against the abuse of all within the union.
On 19 May, NUJ members met online to share contributions and hear from journalists who've encountered hostile treatment and targeting as part of their work.
Organised by NUJ Bristol branch, event speakers included:
Trish Devlin – investigative journalist for the Sunday World in Belfast whose work has brought her death threats and threats to her family
Martin Booth – editor of Bristol 24/7, who was apprehended by police during 2021 disturbances on the streets of Bristol
Andy Aitchison – freelance photographer who won damages with the help of the NUJ after Kent police arrested him for photographing a protest
Chris Mullin – investigative journalist and former MP whose exposé led to the acquittal of the Birmingham Six, and who won the right to keep his sources confidential.
Chair James Garrett, welcomed Mullin as the first speaker of the evening who shared an account of his reporting of the Birmingham pub bombings in 1985-1986, including action the police were able to take as a result of his work. The journalist and ex-MP's opening remarks shone a spotlight on the importance of joining the union.
Mullin said:
"I want to thank Michelle and the NUJ for the unwavering support that they gave me during the course of this difficulty. I would not have been able to afford to defend myself without them."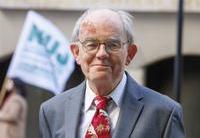 With the full backing of the NUJ, earlier this year, Mullin successfully contested an order brought by West Midlands Police under anti-terrorism legislation requiring him to disclose source material. In an interview with the union, Mullin explains actions of the police, and why journalists protecting sources is paramount.
The NUJ's protection of sources campaign details many other cases the union has supported members in upholding the vital principle of protecting sources.
Andy Aitchison, freelance photographer, reflected on his arrest and subsequent action he took against Kent Police, all stemming from his legitimate work photographing a protest at an asylum processing centre in Kent.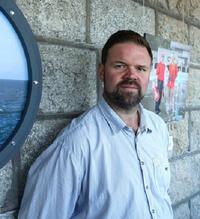 After his photos were circulated online, six police officers arrived in a riot van at his home with a warrant. Despite communicating he had been working as a journalist and showing his press card, officers took his memory card and phone into evidence and Aitchison was arrested and held for seven hours.
He said "almost within 30 seconds I knew I was in the right, they were in the wrong and it was all going to be okay." After speaking with the NUJ the next day, Aitchison was put in contact with Bindmans solicitors who started the process of action against the police.
He said:
"Thanks to the fantastic work of the solicitors at Bindmans and the incredible support of the NUJ, it was all done and I had a full letter of apology from the Kent commissioner."
Aitchison's unlawful arrest should never have taken place, and the outcome was supported by the union last year.
Martin Booth shared his eye witness account of the treatment of protestors by riot police at College Green in Bristol last year. When leaving, his movement was restricted by riot police who stated they did not believe he was a journalist. Booth later received an apology from a senior member of the Police.
He said:
"I certainly don't feel that I was courageous. I was simply doing my job. I think the job of journalists is to accurately report proceedings."
Simon Chapman who was present at the protests and able to show his press card to police and photograph Booth as he was held by officers, acknowledged that it may have helped on this occasion. Reflecting on being arrested two decades earlier and without a press card as a new NUJ member, he commented on the impact of the NUJ who were able to have him released through legal support and encouraged members to "make sure you get your press card if you're doing news gathering."
Trish Devlin, a journalist for 15 years explained she had received vile threats after reporting on the action of paramilitaries in Northern Ireland. Threats targeted members of her family in an attempt to intimidate her, and a social media smear campaign ensued. Devlin acknowledged when initially receiving these, like other journalists, she viewed them as part of the job.
The NUJ supported Devlin in her submission of a complaint to the Police ombudsman after no action was taken by police, despite her reporting a rape threat towards her child a year prior. She spoke of the significant impact being subjected to abuse had on her mental health.
Michelle Stanistreet, NUJ general secretary, announced the union would soon be launching a safety film featuring members sharing testimonies of the impact of harassment and abuse.
She said:
"There's a need for a cultural change so that it's not behaviour and experiences that's normalised and seen to be part of the job."
The film will be used widely throughout the union and forms part of the NUJ's work actively campaigning against the targeting of journalists.