Stand up for journalism – NUJ solidarity protests in Northern Ireland
Local union branches in Belfast and Derry organise events today.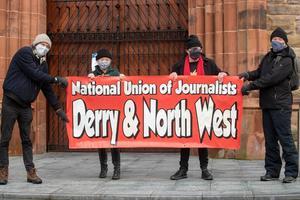 The National Union of Journalists in Belfast and Derry are holding a socially-distanced protests today in support of threatened NUJ colleagues.
Members of the NUJ Belfast and district branch committee have organised a meeting at 12.45 today in Writer's Square in the Cathedral Quarter, Belfast city centre, before walking together to the steps of St Anne's Cathedral, where they will stand for a minute's silence in memory of murdered colleagues, Lyra McKee and Martin O'Hagan.
At the same time, members of the NUJ Derry and North West branch committee will be meeting on the Guildhall steps in Derry, where they will join in the minute's silence.
After the minute's silence, Belfast and district NUJ branch committee will move on to meet union representatives at The Irish News, before moving on to meet colleagues at INM group, which publishes The Belfast Telegraph and Sunday Life. They will also meet NUJ colleagues from The Sunday World. In recent weeks journalists from all these newspapers have come under threat.
Given the constraints of the pandemic, much of today's action will take place online and using the hashtag #standupforjournalism
Séamus Dooley, NUJ Irish secretary, said:
"Journalists must publicly stand with those under threat. Intimidation and harassment are not acceptable. Threats are occurring nearly every week in Northern Ireland. Women journalists in particular are being targeted with vile and misogynist abuse. Threats should never be accepted as part of the job of a journalist or any other worker. Intimidation, harassment and online abuse should not be normalised.
"The NUJ has successfully backed our colleagues Trevor Birney and Barry McCaffrey who were wrongly arrested and their material seized by the PSNI in the No Stone Unturned documentary episode. We do not allow anyone to stop our members doing their job. That job is to shine a light in dark places. Having done so, it is our duty to exercise our right to freedom of expression in the public interest – to speak truth to power."
The chair of the NUJ Belfast and district branch, Robin Wilson, added:
"The NUJ in Northern Ireland has already buried two members. I was a former colleague of Martin O'Hagan and part of the guard of honour at the funeral of Lyra McKee last year. We say – no more Martin O'Hagans; no more Lyra McKees."
Below is a list of threats to NUJ members in Northern Ireland since the start of the lockdown in March 2020. This is not a comprehensive list, it only includes the threats that have been accompanied by a NUJ public statement:
On Saturday 28 November 2020, two journalists working for the Sunday World newspaper were contacted by police and told of a series of "imminent threats" of attack by criminals and loyalist paramilitaries including the West Belfast Ulster Defence Association (UDA). One NUJ member was contacted in the middle of the night by the police and alerted to a threat.
Another NUJ member has been issued with a shoot to kill threat and is also at risk of entrapment and attack. Both individuals have been named in various threatening social media posts and both journalists have been threatened on previous occasions. Those involved in issuing the threats against journalists have carried out recent acts of serious violence.
On Thursday 26 November 2020, the NUJ strongly condemned a violent threat issued against a journalist employed by Independent News and Media (INM) in Northern Ireland. The journalist works for the Belfast Telegraph and Sunday Life newspapers had been advised by the PSNI that he is at risk of attack from loyalist paramilitaries.
In October 2020, journalist Patricia Devlin lodged a complaint with the Police Ombudsman more than a year after she had received death threats and other threats of violence, she lodged an official complaint over what she says is a police failure to investigate a threat to rape her baby.
Patricia is a crime reporter working for the Sunday World newspaper. She received a threat by direct message to her personal Facebook account. The sender threatened to rape her newborn son. It was signed with the name of a neo-Nazi terror group, Combat 18, which in the past has had links to loyalist paramilitaries in Northern Ireland. The person suspected to be behind the threat is a convicted criminal, with links to both loyalist paramilitaries and far-right groups.
On 28 September 2020 the NUJ accused the British and Irish governments of turning a blind eye to the failure of the PSNI to secure a conviction for the murder of journalist and NUJ member Martin O'Hagan. On the 19th anniversary of the murder, the union called on the British prime minister Boris Johnson and Taoiseach Michéal Martin to support the union's demand for an independent, international investigation into the killing.
In May 2020 media organisations, religious leaders, trade unions and cross-party politicians in NI came together to condemn the threats made against journalists. The publishers of three Belfast-based newspapers published a statement/advert in the newspapers to 'stand up for journalists' and press freedom in Northern Ireland.
The public statement appeared in the Belfast Telegraph, Irish News and News Letter newspapers on Wednesday 20 May 2020. This unprecedented joint initiative aimed to highlight and challenge the increasing number of threats of violence inflicted on the media. The threat in May 2020 was issued by the South East Antrim Ulster Defence Association (UDA) and made against journalists at the Belfast-based Sunday World and Sunday Life newspapers. This was a blanket threat against all staff working at two newspapers.
On 18 April 2020, NUJ members organised a remembrance to mark the 1st anniversary of the killing of journalist and NUJ member Lyra McKee. Lyra McKee, a 29 year old journalist, was murdered while observing a dissident republican riot in Derry on 18 April 2019. The President of Ireland, Michael D Higgins, said at the time that 'an attack on a journalist at any time in any part of the world is an attack on truth itself.'
Earlier the same month on 8 April, the NUJ condemned a threat by dissident republicans to carry out a violent attack on a Belfast-based journalist working for the Irish News. The journalist received confirmation of the threat from the Police Service of Northern Ireland.