NUJ condemns killing of Afghan journalist
Union extends condolences to colleagues, families and friends, and raises key safety concerns affecting journalists locally and globally
On the international day for human rights, the NUJ has condemned the killing of Malalai Maiwand, an Afghan TV journalist and her driver Mohammad Tahir. They were killed when gunmen fired on their vehicle in Jalalabad.
The International Federation of Journalists (IFJ) has today published a new report on the killing of journalists worldwide. The IFJ identifies Afghanistan as one of the top ten most dangerous countries for journalists with 93 killings over the last 30 years and in 2020 Afghanistan is the third most dangerous country for journalists.
Michelle Stanistreet, NUJ general secretary, said:
"The NUJ extends its condolences and solidarity to the colleagues, families and friends of Malalai Maiwand and Mohammad Tahir.
"Journalists trade unions around the world have come together today with our global federation, the International Federation of Journalists, to join forces and call for an end to impunity for the crimes of killing and targeting journalists.
"At home and abroad it is most often the local reporters who are targeted. The IFJ report highlights some of the key patterns and trends – from killing with impunity to arrests, abduction, torture, and detention – all aimed at silencing or curtailing the media.
"Enough is enough. We are calling on the UK government and international community to take effective action now. This must include bringing the perpetrators to justice.
"We are asking governments to support our efforts to compel media employers to take on their fair share of responsibilities and duty of care to mitigate the risks. We also want all governments to endorse and support the draft UN safety convention proposed by the IFJ."
The NUJ conducted its own safety survey of members earlier this year and the results highlighted that UK media workers are being routinely abused, harassed and intimidated. Those in frontline roles, such as reporters, photographers and presenters, are particularly impacted but any media worker should be able to go about their work without fearing for their own safety or that of their family.
The most stark and recent examples of threats to journalists in the UK and Ireland are the various and violent threats issued by criminals and paramilitaries against journalists working in Northern Ireland.
On 7 December 2020 local NUJ branches in Belfast and Derry/Londonderry organised protests in support of threatened colleagues. The union also highlighted the multiple threats made to journalists in Northern Ireland since the start of the lockdown in March.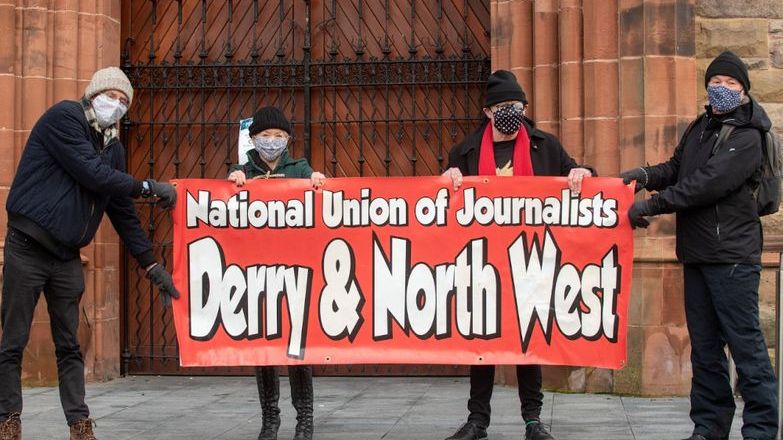 Local union branches in Belfast and Derry organise events today.