International Day of People with Disabilities
Today is the time to reflect on the lives lost to Covid-19 among disabled people and look at how the trade union movement is supporting disabled workers during the pandemic.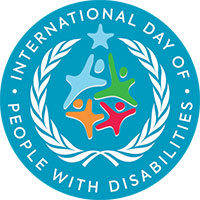 International Day of People with Disabilities (Thursday 3 December) is a time to reflect on the lives lost to Covid-19 among disabled people where death rates have been disproportionately high.
This year's theme is Building Back Better: toward a disability-inclusive, accessible and sustainable post Covid-19 World. One consequence of the pandemic has been the speed at which employers have had to adjust to the new circumstances. Working from home has become a new norm, rising eight-fold during the first lockdown.
Research by Cardiff University showed that over two-thirds of people were more productive and nine out of ten wanted to continue working at home in some capacity in future.
So, employers no longer have an excuse for refusing to put in place flexible work plans which would benefit disabled workers, but challenges remain.
Natasha Hirst, the NUJ's NEC disabled members' representative, told the TUC Disabled Workers' Committee:
"Employers had to adapt very quickly to an unprecedented situation that not all were prepared for. We have been able to prove that working from home and flexible working supports productivity, something that disabled workers have been calling for a long time. Although home working has removed many barriers for disabled journalists, it's not been without challenges. Members have reported not having reasonable adjustments put in place for working from home and there is still more to do to address isolation and improve the accessibility of online events and communications.
"Disabled freelances have struggled to secure adequate Access to Work grants and those who were ineligible for government financial support have found themselves in an extremely insecure situation. Many disabled journalists will be anxious about their future working arrangements and it is important that they are able to influence how organisations adapt to a post-Covid world."
Governments and service providers' emergency responses to the Covid-19 pandemic have been criticised by disabled people's organisations and trade unions for breaching disabled peoples' human rights. In addition to disproportionately high death rates for disabled people, the pandemic has rapidly worsened numerous inequalities that existed pre-Covid-19 leaving many at the height of the crisis without adequate access to food, health and social care services and experiencing severe isolation.
Ann Galpin, chair of NUJ Disabled Members' Council and organiser of a disabled workers' webinar in her capacity as co-chair of the TUC Disabled Workers Committee, said:
"Policy-makers very quickly forgot their commitment to the Social Model of Disability as they responded to the pandemic by breaching disabled people's rights in the Coronavirus Act. Referring to 'at risk' individuals with the negative rhetoric of 'vulnerability' has disempowered and devalued disabled people in our communities.
"We call on our colleagues in the NUJ and across the trade union movement to be allies by learning about and implementing the Social Model of Disability and to meaningfully consult deaf and disabled people on what barriers they face and how to remove them.
Information on the social model of disability and the NUJ Disabled Members' Council.
NUJ Training
Equality reps training is available and we encourage all reps to come along to improve their understanding of how they can promote disability equality at work. New resources are being developed to support branches and chapels with embedding equality and inclusion into their activities with members and employers.
Contact [email protected] for more information.
The FEU Training Acting for Equality and Diversity online course goes through how the law protects individuals and groups, why equality and diversity are so important in the workplace and wider society and how your unions play a crucial role in achieving equality of opportunity for all.
Oxford and District NUJ branch chair Lynn Degele shares her experiences of working from home during lockdown.