Government must not reverse changes in universal credit for freelances
The NUJ is backing efforts by the TUC and Federation of Small Businesses (FSB) to persuade the UK government to keep the suspension of the Minimum Income Floor (MIF) in place until the pandemic is over to prevent freelances from further hardship.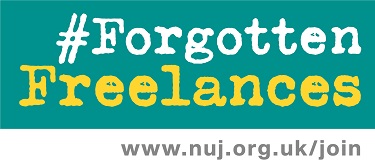 The MIF applies only to the self-employed and limits access to Universal Credit to those self-employed claimants who can show they meet a minimum income threshold. The MIF is based on an assumption that self-employed people earn the equivalent (normally 35 hours) at the National Minimum Wage – when they may have earned nothing in the assessment period. The Institute of Fiscal Studies has estimated that the MIF affects about 450,000 households who lose an average of £3,200 a year from this assumption.
In March, the MIF was suspended temporarily, but is due to be reinstated on 13 November. The suspension helped many freelances whose work dried up overnight after Covid-19. A letter from the TUC and FSB to Thérèse Coffey, Secretary of State for Work and Pensions, highlights the need for the suspension to remain in place, otherwise self-employed Universal Credit claimants already struggling could see a significant drop in their award.
Pamela Morton, national freelance organiser, said:
"When it comes to Universal Credit, you are penalised for being self-employed and the Minimum Income Floor should be abolished completely. However, an immediate priority for the government must be to change course and at least honour the promise made to suspend the Minimum Income Floor until this pandemic is over.
"So many of the self-employed were ineligible to access the Self-Employed Income Support Scheme and had to turn to Universal Credit and will need every penny in the months ahead. Members should contact their MPs urgently to raise this with the government."
Read the TUC statement: TUC and FSB join forces to stop nightmare Friday 13th cut in support for Covid-impacted self-employed