Claudia Jones lecture 2023: Nels Abbey
Nels Abbey discusses racism laundering, trying to fit in…and Suella Braveman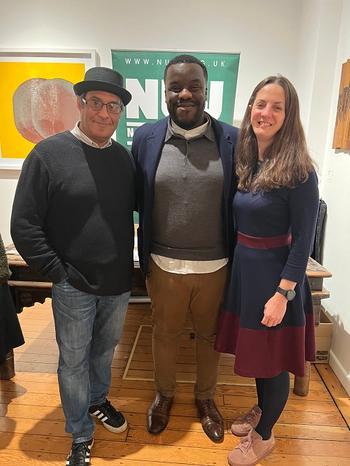 Nel Abbey, author, journalist and broadcaster, paid tribute to the "rebel, agitator, fighter and free alternative thinker" Claudia Jones as he delivered the NUJ's memorial lecture in honour of the journalist and one of the prime movers of the Notting Hill Carnival.
In a nod to the former Home Secretary he added that she was also "a West Indian Gazette founding, Guardian reading, tofu eating wokerati"…not that he was going to talk about Suella Braveman, he said, but of course that was not possible.
"We remember Claudia Jones," he said, "with three simple words: one of us."
Nels is the author of the satirical self-help book, Think Like A White Man, based on his experience in the banking industry, and he regularly writes columns for the Guardian and has appeared on BBC's Question Time and the Moral Maze.
He was introduced to the audience by Tony Adams, chair of the NUJ's Black Members' Council as a literary Jedi who dissected societal matters with razor-sharp humour, able to tackle hard-hitting issues while leaving audiences in stitches of laughter.
Nels started by describing his upbringing in foster care in "one of the whitest places on earth", in rural Benson, Oxfordshire, where he and his sister were the only black faces. "In the school photographs there would be two black blobs, that was me and my sister."
Aged nine, he was taken from his foster parents and back to his mother in London, where he was sent to "one of the worst – if not the worst – school in the country". He had never felt Nigerian, or British-Nigerian: he was English. At first, he was happy not to be the only black pupil, until he watched some of the other children roasting a Nigerian boy. The next day he "became Bajan", realising that the gang to be a member of was West Indian.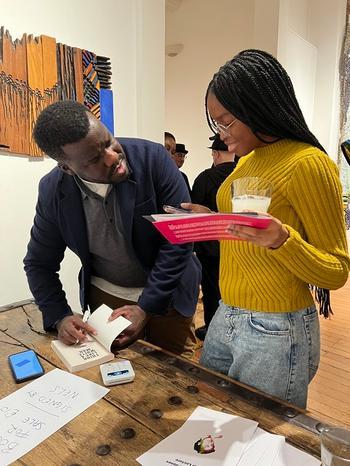 Then aged 12, he was sent to Lagos where his father lived, and was sent to a tough boarding school. At last, he thought, he wouldn't be in a minority. When he was asked which tribe he was from, he discovered his ethnic group the Itsekiri people of the Niger Delta were "quite nothing"; the only groups which mattered were the Yoruba, Hausa and Igbo. "Overnight, I became Yoruba. My name made it easy," he said.
His time in Nigeria was during political turbulence, violence and rioting. "The Nigerian elite were running Nigeria in the same way the British did before them. Plundered it, divided and ruled," he said.
Now back in the UK, Nels finds it a "very confusing time in black British history". Much of the British establishment is running Britain like Britain would have ruled one of its colonies, he believes. We have a black Prime Minster and a black Home Secretary. "We look supremely powerful, but couldn't be more powerless", he said. "Diversity went from a sign of progress to an indicator of powerless."
In a Guardian article, Nels wrote: "It is a sad aspect of public life that a quick route to success and notoriety for minorities in the UK is to express the most reactionary opinions imaginable. Witness Kwasi Kwarteng randomly and needlessly blurting out slavery apologia on Piers Morgan's show, or the careers so far of Priti Patel and Suella Braverman."
It was Nels who gave greater exposure to the case of Dominique Samuels, a young, black rightwing commentator who claimed on X (formerly Twitter) that she was the face of a MailOnline ghostwritten, negative, verging on racist piece about the Notting Hill carnival last year. In another example of "racism laundering" The Daily Mail also used her byline on a ghostwritten piece about racism accusations by Meghan, the Duchess of Sussex.
Nels told the NUJ audience: "The most prolific writer on black issues today in Britain is a 60-something white man. He is a ghostwriter for so many culture warriors. When this was revealed, it was met with mute from the media."
He ended by saying: "My early experiences of life show that it is normal to want to fit in. The current climate teaches us that it is profitable to fit in. But the overcompensation for not fitting in is placing the lives of minorities in particular at harm. As journalists and writers, we have a duty to ensure the nation understands this for what it is. We can no longer shy from it."
The event was organised by the NUJ's Black Members' Council, and Tony Adams paid tribute to the legacy of Claudia Jones who was born in Trinidad in 1924, moving to New York where she became a member of the Communist Party, serving a year in prison as a result of her activism, fighting racism and poverty. She left the US for a United Kingdom with its "No blacks, no dogs, no Irish" signs and became a leading light of the black equal rights movement, going on to establish the West Indian Gazette.
Tony said: "Claudia Jones was more than a journalist, she was an activist who dared to challenge the status quo, a voice for those who had been silenced who exposed injustices and inspires us to continue the fight for a more inclusive, diverse multicultural society. Her work has left an indelible mark on our world, reminding us that journalism when wielded with integrity and purpose can be an instrument for change."