Are young dreams being dashed?
Ruth Addicott explores why some young people leave journalism early.
This feature by Ruth Addicott first appeared in the Journalist, May/June 2018.
When Lucy Pearce was appointed editor of The Argus in Brighton, aged 28, she was not only its youngest editor but also the first woman to edit the paper in its 137-year history. When she resigned within weeks to become communications and engagement manager at Legal & General, it took many by surprise. Pearce declined to comment on her reasons, but she is not alone in making such a move.
In January 2018, Abigail Weaving was awarded the Paul Durrant Award for her outstanding NCTJ performance. By then, she had already left the Saffron Walden Reporter to work at a London press office.
While many graduate trainees on nationals go on to enjoy prestigious careers, there have been recent reports of trainees quitting.
Why are some young journalists leaving so soon?
An NCTJ report in 2015 which tracked journalists 6-10 months after they'd qualified showed 'a striking difference' in the proportion of recently qualifieds working in PR and communications (18 per cent), compared with one per cent in a survey in 2012.
One reason is pay. A report by the Chartered Institute of Public Relations in 2017 showed the average salary of a PR professional had risen to £50,447 (£66,102 in London). Nearly one in four aged 25-34 earned £40,000-£59,999.
With local newspaper staff striking over low pay and a survey last year showing one in three freelancers is in receipt of state benefits, for many, PR seems a sensible option.
Jem Collins, editor of Journo Resources, which offers support to journalists starting out, believes a lot of graduates become demoralised when they cannot get a job.
More than 300 local papers have closed in the past decade.
"Good jobs are hard to come by and it's easy to see why you'd move into an industry which is easier to crack. There's this bizarre idea you should be grateful for any journalism job, regardless of the conditions, which I think is one of the reasons people leave," says Collins.
"I think journalism training romanticises the profession slightly, which makes it more painfully obvious when the conditions are bad. We're told how to do on the ground reporting, how to get exclusives and allowed to take our time on stories and cover things we're interested in. Sadly, there are few jobs in the real world which let you do that – often you're churning out seven or more pieces a day. That's not to say we shouldn't do training, but we need to prepare those breaking into the industry for the reality."
A report in Press Gazette last summer said the 'ripping culture' (re-jigging stories from rivals) at one national newspaper website led to more than half of its graduate trainee intake for the past two years leaving to work in PR.
Professor Suzanne Franks, head of journalism at City University in London, says: "Quite a number of our students end up in that situation and get disillusioned – you can't do real journalism that way."
So are students leaving university with false expectations?
"I don't think so," says Franks. "They've grown up in a very digitally aware age. Some think they're going to walk out and read the Ten o'Clock news the next week but, by and large, they understand. We have lots of career events with alumni coming back and talking about their experience."
Tim Holmes, senior lecturer in the Centre for Journalism at Cardiff University, says the acid test is when students do work experience. While most come back enthused, some go to a big consumer magazine and end up photocopying or clearing the fashion cupboard with schoolchildren.
"That happens rarely, but it does happen," says Holmes.
He believes the shift to PR happens when journalists want to start a family or need more financial security.
Holmes says local newspapers have also done a 'grave disservice', to content and driving reporters too hard.
"There are still a lot of local stories that need proper exposure and investigation. That is becoming more difficult for journalists to do and I think that is a real danger. If you're not getting the interesting work and not getting paid well, why should you stay?"
Megan Baynes is on the executive committee of the Student Publication Association (SPA), which supports young journalists. She believes graduates get a rude awakening.
"Going into any job is a shock, but journalism demands your entire life," she says. "I think sometimes graduates aren't realistic. In my last year, everyone was applying for the BBC and The Times graduate scheme and I was applying for local journalism jobs. When I got my job, everyone was like, 'why aren't you aiming higher?' I said, you've got to go in at a local level. It's great to be ambitious, but don't turn up your nose at your local paper. Moving across the country to work on a local was the best decision I made."
Baynes didn't do a journalism degree, but put as much on her CV as possible – running her student paper and doing work experience at the Gloucestershire Echo, the BBC and Channel 4, as well as working for a paper in the US during her year abroad.
So, when she graduated, she had experience. She is now doing an apprenticeship at the Isle of Wight County Press as a trainee reporter.
"I prefer it because you get on the ground experience while you're training," she says.
Feedback from students at SPA also found that editors don't always look as favourably on journalism degrees. "If someone said, 'I'm applying for university', I wouldn't advise them to do a journalism degree," says Baynes. "It's hard because everyone wants that experience and a lot of the time publishers want the NCTJ, but they aren't willing to pay for it. So you've got to put yourself in a lot of debt, then take a job where you may not earn much. I can see why students think, 'What's the point when I can take a job in PR?' " There are new opportunities at organisations such as charities and non governmental organisations.
So are graduates being encouraged to take jobs in PR?
"We definitely don't want students to go into PR because that's not journalism and we train them to be journalists," says Franks. "We want them to be independent minded and hold power to account. The reason we do this is to produce good journalists who will go out there, fly the flag and ask difficult questions. I feel a bit disappointed when I see people who have those skills and use them in the capacity of PR."
Holmes believes the industry needs to look at itself, including at wage structures and career paths. "If they want bright young people to come in, there has to be some reward," he says. "It doesn't necessarily have to be pay – if they're getting interesting work, there's a balance. But if they're expected to do fairly rubbish jobs and not get paid well, that is a recipe for disaster."
Franks says: "The bright ones and the determined ones will make it in the end. Keep your skills, keep learning and find your niche."
How to get nearer the job you want
Student journalism
The Student Publication Association covers the UK and Ireland and provides support, training and a chance to showcase work. Journo Resources provides information on how to break into journalism, including a recent fees guide and list of graduate trainee schemes.
Develop a specialism
Suzanne Franks, head of journalism at City University in London, suggests working for business to business magazines. She recalls one graduate who joined Inside Housing and broke stories on Grenfell Tower.
"They carved out an area and were in a great position to track that story."
Freelance
Freelancing is a good way to build a portfolio, combined with shifts, copywriting, lecturing or PR for extra income.
Consider other roles
Tim Holmes, senior lecturer in the Centre for Journalism at Cardiff University, recalls a graduate who worked in customer engagement at online fashion store ASOS, to bring people to its website.
"ASOS had brought together a huge number of talented, creative people. It was like all the best bits of being on a really good publication – exciting, visual and creative, but they were getting paid a lot more."
Get support
Check out Facebook groups such as The No1 Freelance Ladies' Buddy Agency and A Few Good Hacks where journalists share advice on fees, pitching and opportunities. The Celebrity Interview Club lists celebs available for interviews.
Boost skills
Broaden your skills. The NUJ offers courses.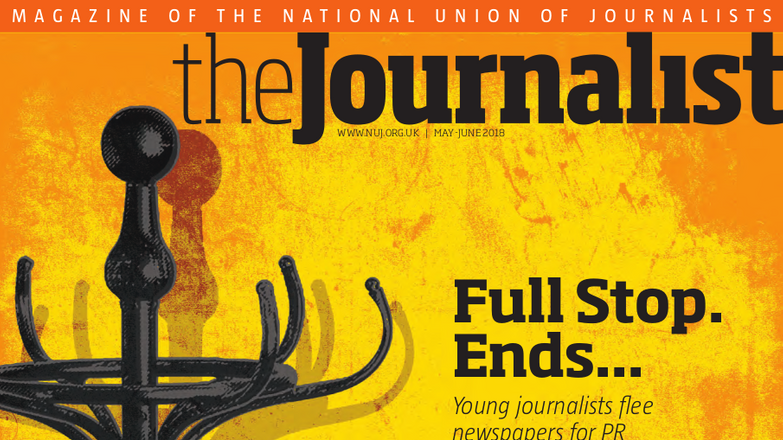 Did you dream of becoming a reporter or an editor? Many of us did, attracted by an exciting career full of variety and the potential to hold power to ...