NUJ stands in solidarity with Ukraine at Dublin rally
Trade unions met outside the Russian embassy in Dublin yesterday, commending the courage of the people of Ukraine, paying tribute to all those killed and condemning Russia's actions in the war.
Trade unionists from all over the country joined with the Ukraine community in Ireland yesterday in support of a demonstration organised by the Irish Congress of Trade Unions (ICTU) outside the Russian Embassy in Dublin.
The ambassadors of Georgia, Lithuania and Poland joined the Ukraine Ambassador to Ireland Larysa Gerasko, Congress President Kevin Callanan and general secretary Patricia King as hundreds stood in silent tribute to those killed in the Russian war on Ukraine.
Earlier the haunting sound of an air raid warning echoed across the leafy suburbs of Rathgar as Nick Kozlov from the Ukraine Crisis Centre, Dublin played a recorded message from his home country.
Séamus Dooley, NUJ assistant general secretary, chaired the proceedings and outlined the ICTU's purpose in calling the rally four weeks after the commencement of Russian's war on Ukraine.
He said:
"We stand together as trade union members, united by our common humanity with the people of Ukraine and by our belief in the futility and obscenity of war.
"We salute the courage of the people of Ukraine and we welcome those who seek shelter among us. In the words of the Gaelic poet Gabriel Rosenstrock:
Let them in,
Weary women, men and children,
Into our hearts."
He added:
"The father of Irish trade unionism James Larkin declared that an injury to one is the concern of all and it is in that spirit that Congress gathers in the shadow of the Russian embassy.

"Larkin loved Russia and the Russian people and he would remind us that the workers of Russia are also victims of Putin's illegal war. In standing with Ukraine we do not stand against the workers of Russia but against Putin."
There was a special welcome at the rally for veteran NUJ member Charlie Bird who is living with the life limiting condition Motor neurone disease. Charlie has publicly discussed his terminal illness and was warmly welcomed when he joined NUJ members. With limited mobility and having lost his voice he insisted on taking part in the demonstration.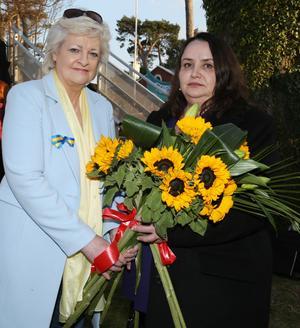 ICTU General Secretary Patricia King presents the Ukraine ambassador Larysa Gerasko with a bouquet of sunflowers.
Watch coverage of the rally from the Irish Times and hear from Séamus Dooley.