TUC Disabled Workers' Conference 2022
NUJ delegates joined trade union colleagues to set the agenda to secure decent working opportunities for disabled workers.
Rishi Sunak's mini budget announced on the second day of the TUC's Disabled Workers' Conference offered very little succour for the delegates gathered for the online event.
A Resolution Foundation analysis predicted that 1.3 million people will be pushed below the poverty line as the Chancellor offered no support for poorer families and vulnerable groups. Conference heard that disabled workers have already suffered hard because of the effects of the pandemic and their historic position in the labour market.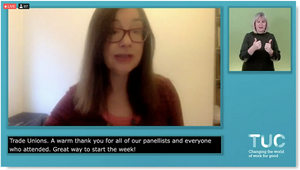 Ann Galpin, NUJ member and co-chair of the TUC's Disability Council, said the recent judgment that the National Disability Strategy was unlawful after failing to consult disabled people, showed the scant regard the government has for the experiences and voices of disabled people.
The TUC found that not only have disabled people disproportionately lost their lives, with six in 10 Covid-19 related deaths being disabled people, but pre-existing workplace barriers had been accentuated by the pandemic. Around one third of disabled workers surveyed reported being treated unfairly at work because of their disability, health condition or impairment.
Ann said while this all painted a bleak picture, conference was an opportunity to set the agenda on how to win secure and decent work for all disabled people. She said: "We don't beg or plead, and we are not seeking charity. All we are demanding is our rights as full and equal citizens. The social model of disability recognises this. It will help us to remove the barriers which stop our full participation in society. Let us say loud and clear: Nothing About Us Without Us."
Ann called for a minute's silence to think about all those killed in the Ukraine war. She later spoke to a motion (one of three emergency motions about Ukraine) highlighting the vital work of journalists, NUJ members working there and local Ukrainian journalists. She said in the face of Russian disinformation it was vital that reporters were on the ground and the NUJ was supporting the International Federation of Journalists fund to help media workers with the equipment and support they needed.
She said there were an estimated 2.7m disabled people in Ukraine and quoted Jason Parkinson, an NUJ photographer, who said many of those on crutches or in wheelchairs were finding it extra difficult when fleeing towns being bombed.
Conference heard delegates say that the flexibility of working at home introduced during the pandemic had been of great benefit to disabled workers – when employers provided equipment if needed – and that this flexibility must continue. However, others warned that others had felt isolated, and their mental health had suffered; the TUC needed to monitor the situation to ensure that those who worked from home were not passed over for promotion.
In his speech Paul Nowak, TUC deputy general secretary, said the government was acting as if the pandemic was over, but many people were still extremely vulnerable to the virus. While the Prime Minister called the ending of masks and testing Freedom Day, it was exactly the opposite for many. He said the TUC was calling for Long Covid to be recognised as a disability under the Equality Act.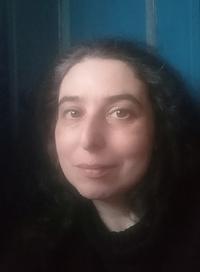 Polina Sparks, an NUJ observer at conference who took part in a fringe meeting as a member of Long Covid Support Employment Group, said she was one of 1.5milion people in the UK living with Long Covid, according to the latest ONS figures. That's one person in fifty. She said the TUC and all trade unions should be supporting their members and educating reps how to support them, because Long Covid is costing people health and jobs. Health and safety and equalities committees should work together, she said, to advocate for Covid preventative measures in workplaces and to tackle the under-reporting of Covid infections.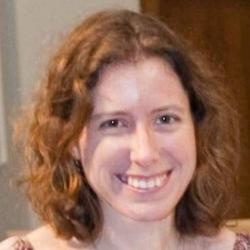 The NUJ's delegates spoke to large number of motions. Lynn Degele supported calls for legislative changes to strengthen the rights of disabled workers to receive "reasonable adjustments" and for employers to be fined if they do not provide them.
Lynn, who is neurodivergent and has been diagnosed with ADHD and dyspraxia, said that being given mind mapping software, speech to text software and a smart pen that allowed her to record audio of meetings meant she could do her job more easily and after 12 years this had helped her finally gain promotion. She emphasised that employers must ensure that disabled people are able to be successful in the workplace. She said:
"My reasonable adjustments made me visible, and my hope would be for all disabled workers who need them, to have the right to them, to have the confidence to request them and to work in workplaces where they are seen as standard and not an afterthought. By normalising reasonable adjustments, we can make clearer to employers and disabled workers what is possible. This may help to raise awareness amongst employers so that when they interview a disabled worker, they know that they have a starting point to understand what support will be required and is available."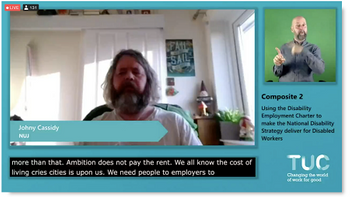 Johny Cassidy, a member who works for the BBC, called for the TUC Disabled Workers' Conference to hold employers' feet to the fire, saying mandatory reporting by employers of the disability pay gap must be introduced. He said with the rapid increase in the cost of living, this was even more necessary. "It is widely known that disabled workers earn around about 20 per cent less than their non-disabled colleagues, and for disabled women that goes up drastically to 36 per cent. Lots of employers really love to say they are ambitious to get more disabled people in to work. You know, it is just that it has to be a lot more than that. Ambition does not pay the rent," he said.
He referenced a recent report from the Creative Diversity Network, the industry body monitoring diversity on and off-screen within the UK's television industry, which said: "There appears to be nowhere in the industry where disabled people thrive."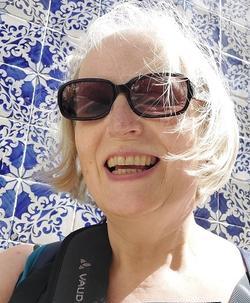 Seconding a motion which called for workplace menopause policies, NUJ delegate Siobhan Wall, an Amsterdam-based writer, photographer and artist, said the taboo over menopause must be breached. She said: "Creating awareness about the menopause and the most common symptoms can help support older female colleagues and freelancers. As women are more often working in lower paid roles and have caring responsibilities outside work, we tend to carry on rather than ask for help. Employers need to have policies in place to support women and ensure the menopause not a taboo subject in the workplace. Women shouldn't be struggling alone and be performance managed out of their jobs due to lack of support."
She said the NUJ is developing menopause resources to help our reps negotiate with employers to increase the understanding of the effects of the menopause and to put in place measure to help women going through this stage of their life.
Sports journalist Gemma Stevenson spoke to a motion calling on the TUC to use it influence to ensure that sports events organisers continue to offer the option of digital accreditation and improve access and secure reasonable adjustments within sports arenas. She said digital accreditation adopted during the pandemic had opened up opportunities for disabled sport journalists covering international sporting events.
"In short digital accreditation has been a gamechanger; a new way to report on major sports events has arisen, and it's been made possible by platforms like Zoom, Google Meets and Microsoft Teams But as the world has opened up again we are in danger of losing these gains and there is less certainty whether this way of working will continue.

"At the Tokyo Paralympics digital accreditation was offered but you were not given the same
access to the athletes and event because they wanted to incentivise actually travelling to the
event, at a time when Japan was still in a state of emergency," she said.