Increasing support for Northern Ireland journalists
Since the Stand up for Journalism initiative was launched, it has been warmly welcomed and endorsed by many more supporters
Since the launch of a joint statement offering support for journalists and press freedom in Northern Ireland earlier this week, the initiative has been warmly welcomed and endorsed by many more supporters.
The NUJ extends thanks to all who participated in the launch and to the new supporters who have subsequently come forward.
The advert Stand up for Journalism was placed in three daily newspapers in Northern Ireland on Wednesday 20 May – in the Belfast Telegraph, Irish News and News Letter.
The statement acknowledged: "Attempts to intimidate journalists have come from dissident Republican and Loyalist paramilitary groups and are intended to prevent the media from investigating their activities and exposing criminality. Threats against journalists and media organisations have no place in our society. It is vital that such behaviour is not tolerated. No worker should be exposed to threats for doing their job."
The initiative generated local and global endorsement for the launch, and once the statement was published the NUJ launched an online public petition encouraging people to add their name.
On Thursday 21 May, the Irish Examiner editorial, said:
"We salute a courageous and worthy initiative that asserts the right of journalists to work without threats, intimidation or harassment. Threats against journalists should not be tolerated in any free society."
Further pledges of support include -
Sharan Burrow, the general secretary of the International Trade Union Confederation (ITUC) said:
"Too many workers have been killed and injured in Northern Ireland. In extending solidarity with those who have been threatened my thoughts are also with the bereaved families who have lost loved ones."
Esther Lynch, deputy general secretary of the European Trade Union Confederation (ETUC), said:
"At a time when journalists are playing an important role in providing independent, verifiable information it is alarming to learn that reporters and media organisations in Northern Ireland have again been threatened by paramilitary groups. I have watched this trend over the past year with growing concern.
"The health, safety and welfare of workers is of paramount importance and it is extremely encouraging to witness such strong cross-community support for journalists at this time. There is no place in a civilized society for the intimidation of journalists or of those who defend the media's right to seek the truth, no matter how uncomfortable that may be for those under scrutiny."
Anthony Bellanger, the general secretary of the International Federation of Journalists (IFJ) said:
"The IFJ extends solidarity to those under threat and stands with the NUJ and with publishers in condemning attacks on the press. These attempts to silence journalists in Northern Ireland cannot succeed. Those responsible for protecting citizens must ensure that paramilitary organisations are not allowed to continue to operate in any part of Northern Ireland.
"We salute those who have stood up for the right of the media to operate without fear or intimidation. The PSNI must be given adequate resources to combat this unacceptable behaviour and those who occupy positions of authority must be unambiguous in dealing with all paramilitary groups."
Dominique Pradalié, general secretary of the French journalists' union SNJ and Ricardo Gutierrez, general secretary of the European Federation of Journalists, have also offered their support.
Jo Stevens, Labour's shadow secretary of state for digital, culture, media and sport; and Chris Matheson, Labour's shadow minister for digital, culture, media and sport have both pledged their support and in a joint statement, Jo Stevens MP and Louise Haigh MP, both members of Labour's shadow cabinet, said:
"Journalists have a fundamental right to work free from fear. We condemn the vile intimidation and threats, and reiterate our unwavering support to the dedicated journalists who shine a light on behalf of us all. All of us who believe in a democratic society are clear, there is no place for those who would seek to undermine our fundamental freedoms."
Other politicians including Rob Butler, Conservative MP for Aylesbury, Lord Hay of Ballyore, Democratic Unionist Party life peer and Baroness Bonham Carter have backed calls to stand up for journalism in Northern Ireland.
The largest public service union in Ireland, FORSA, has pledged their support as have the Journalists' Union of Athens Daily Newspaper (JUADN).
At a meeting of the executive council of the Irish Congress of Trade Unions (ICTU) this week, Séamus Dooley, NUJ assistant general secretary paid tribute to the role of Congress in helping the NUJ stand up for journalism and thanked their staff for co-ordinating the campaign among trade unions and trade union councils in Northern Ireland. He said:
"Whenever workers in Northern Ireland are under attack our unions stand with them and against the threats. This week the trade union movement stood with NUJ members as they have done before. The broad-based support for the joint industry and NUJ statement is of enormous significance and has been described as the largest such coalition seen in Northern Ireland for many years. It is also unprecedented in its diversity."
Prominent members of civil society have also put on record their backing of the statement since it was launched, these individuals include Rebecca Vincent, UK bureau director of Reporters Without Borders, and Ian Marshall, former president of the Ulster Farmer's Union.
Earlier this week, veteran trade unionist and human rights champion Baroness May Blood highlighted the importance of a free press and described threats against journalists:
"A free press is vital. It was so important when we had the Troubles and after. People hang on the news and what they read in the papers. It is more important now than ever with coronavirus. My bottom line is we don't need the paramilitaries, on both sides. The assembly and executive have enough to worry about, as do journalists out covering stories for us. Their lives and their families lives should not be under threat. It is disgraceful."
Northern Irish solicitor, former rugby union player and politician, Trevor Ringland, said journalists "expose paramilitaries trying to behave in the old ways". He added:
"There are some trying to move on and play a constructive role in their communities while others seem to continue as organised crime gangs. This is being exposed by journalists, so they do what they think they are entitled to do and threaten them."

"It is so fundamental journalists should be allowed to practice their profession without threats and fear. It is fundamental to a successful democracy."
Prominent Catholic priest Fr Martin Magill described the threats to media workers in Northern Ireland as "abhorrent on so many levels". He added:
"We need journalists to be completely free to be able to do their work. Any attempt to intimidate and terrorise journalists should be rejected by all of us in society. The media are there to hold us to account, including the church, to be truth tellers and make sure we know the truth."
The Right Reverend Chris Hudson, the moderator of the non-subscribing Presbyterian Church of Ireland, said:
"A free press is an essential pillar of our democratic society. It is not expected that we agree with all opinions or news reports but what is expected is our expressed support for that pillar."
See the full text of the statement and list of supporters: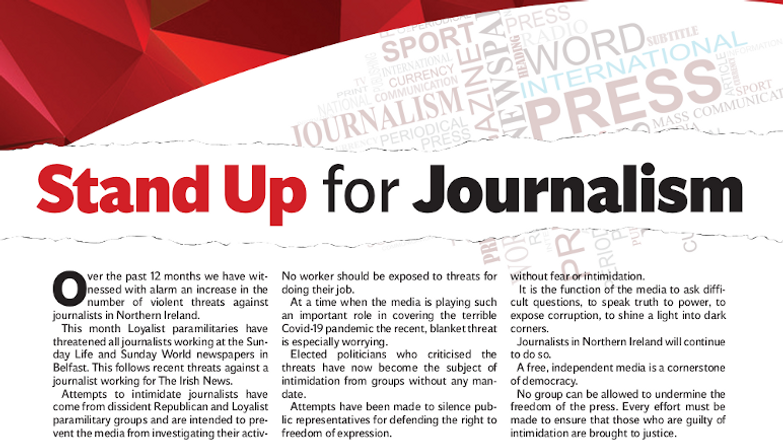 This unprecedented joint initiative aims to highlight and challenge the increasing number of threats of violence inflicted on the media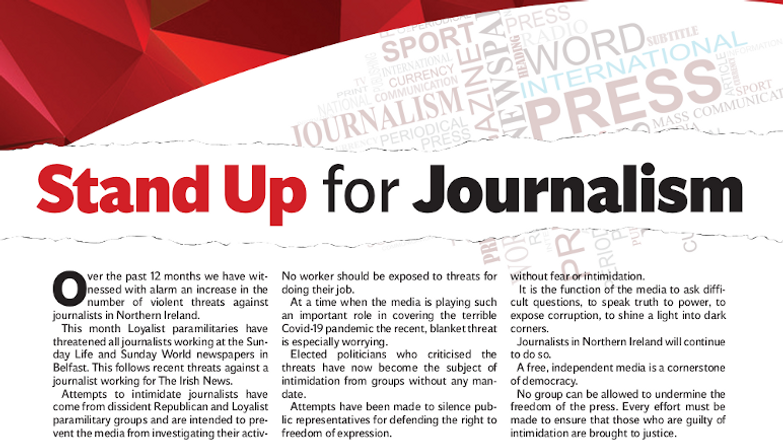 This public statement that appeared in the Belfast Telegraph, Irish News and News Letter following a spate of threats to journalists from paramilitary...