Photographers and TV crews face threats and abuse as they cover Covid-19 crisis
Urine was thrown at one photographer (which fortunately missed) while taking pictures of people not observing social distancing.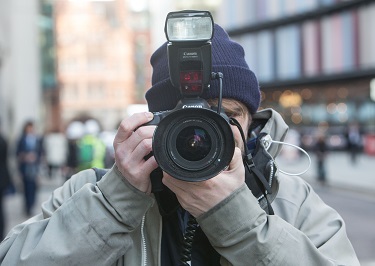 Photographers are being subject to threats and abuse from the public while covering the Covid-19 crisis, members have reported to the NUJ's Photographers' Council.
One photographer had urine thrown at her (which fortunately missed) by men in a van after she took pictures showing people in vehicles and on the street who were not observing the required social distancing.
Others have had aggressive notes left on their cars, tyres let down, items being thrown at them, online abuse and have been being confronted and surrounded by members of the public when out trying to work.
Natasha Hirst, chair of the NUJ Photographers' Council said:
"We have seen an alarming rise in hostility towards photographers, videographers and TV crews over the past few years that has surged during the coronavirus crisis. Photographers are key workers who play a vital role in both informing and protecting the public. NUJ members abide by a code of conduct and work ethically and safely, including taking precautions to prevent the spread of the virus.
"Nobody should fear for their safety when doing their job. In a society that relies so heavily on images, it is utterly abhorrent for members of the public to be obstructing and threatening visual journalists as they try to work."
The NUJ has maintained a constructive dialogue with the National Police Chiefs Council and the Metropolitan Police. Guidance for police officers on working with journalists, including photographers, was launched shortly after lockdown:
The Photographers' Council continues to highlight and report incidents of inappropriate police responses towards photographers. The Metropolitan Police has reinforced its commitment to get the message across to its officers that journalists and photographers are key workers and should be able to get on with their jobs.
More of a problem has been security operatives behaving aggressively towards photographers and obstructing them from working. There is no legal requirement for security operatives to receive training on working with journalists and many of them are ignorant of the rights of photographers to take pictures in public places; the NUJ is pursuing options to address this.
The NUJ is advising members to carry their press card with them at all times when working. Carrying a copy of the National Police Chiefs Council guidance on working with journalists during the Covid-19 outbreak is also helpful:
Any members who experience obstruction from police officers, security operatives or members of the public can report details to the NUJ freelance office [email protected] .
Photographers have been hit hard since the pandemic, with many usual avenues of work disappearing leaving them in severe financial difficulties that will continue for many months to come.
The June edition of The Journalist will contain a feature on how photographers have been covering the crisis.