NUJ condemns social media attacks on Irish Times journalists
The union has strongly condemned the online abuse of Irish Times journalists Kitty Holland and Dara Mac Dónaill following their coverage of a violent incident in north Dublin.
They had reported on a group of men who arrived at a migrants' encampment, of about 15 tents on the banks of the Tolka river in Ashtown, with dogs, sticks and a baseball bat. The attack was interrupted by the Irish Times journalists who were present to interview the residents of the encampment.
Since publication of the story Kitty Holland, social affairs correspondent, has been the target of abuse on social media.
Séamus Dooley, Irish Secretary of the NUJ, said:
"The attempts to smear a reporter and photographer are despicable. The abuse of Kitty Holland, in particular, is vile and beneath contempt. There have been suggestions that the story was fabricated. Kitty and Dara are journalists of the highest integrity who behaved with utmost professionalism. This was a despicable incident, and their presence thankfully prevented a more serious incident.

"This is part of a pattern of behaviour on Twitter and other social media platforms. We encourage all members to report abuse to the social media platform providers, to their employer and where appropriate to the Gardai.

"Journalists will not be prevented from covering the activities of far-right groups by attacks on social media. Our members have also been abused in public and we are working with media organisations and An Garda Siochana to put in place measures to protect media workers and to ensure that all attacks are reported.

"The sharp increase in social media attacks on female journalists is especially worrying and gives rise to grave concern.

"The attacks at the weekend are part of a wider trend in Irish society. Public figures need to be mindful of how language can be used to stir up racism and intolerance. There is a responsibility on everyone who respects democracy to ensure that language is not hijacked to fuel hatred."
Éanna Ó Caollaí & Conn Ó Midheach on behalf of The Irish Times chapel (office branch) expressed solidarity with their colleagues. They said:
"We join in condemning these attacks. Irish Times journalists will not tolerate intimidation from any quarter. It is not acceptable to abuse workers for doing their job. Attacks on women journalists are all too prevalent and this behaviour cannot be tolerated."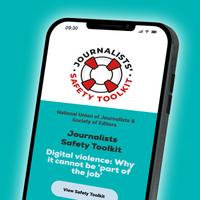 The NUJ takes journalists' safety seriously. Members can get access to a mobile safety app to help protect them from threats of violence and online abuse in the course of their work. There is also a version on on the website.