Support for Bullivant strikers
Messages of support and solidarity flood in today for the local newspaper journalists on strike.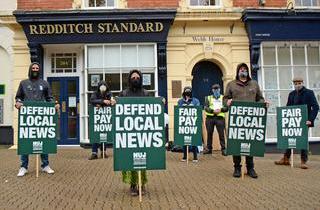 NUJ members working for Bullivant Media Limited took strike action today in response to the company's redundancy plans, new working practices, and after months of journalists being underpaid.
The company runs weekly free newspapers and websites with titles including the Coventry Observer, Leamington Observer, Rugby Observer, Stratford Observer, Solihull Observer, Redditch Standard, Bromsgrove Standard, Worcester Observer and Evesham Observer.
The NUJ chapel at Bullivant Media includes all 18 members of the editorial team. The chapel voted unanimously in favour of industrial action.
These are NUJ members taking action to save local jobs and quality journalism.
Journalists on strike have said:
"It is really upsetting to see the rambling copy and pasted press releases replacing once quality journalism everyday across social media. All the hard work I and my colleagues do for the paper has diminished and been undermined by non-editorial staff.
"It does not feel like our employer has our interests at heart whatsoever, or cares about our integrity as journalists and dedication to the community, or the community itself. I have worked hard, studied hard, paid money for training and exams just to be robbed of a job I love."
"After showing hard work and goodwill during the chaos of covid-19, the Bullivant's failure to pay on time put me in severe financial difficulty. They refused to put me on furlough."
"I was almost in rent arrears were it not for taking night shifts in a warehouse to ensure I had money to pay bills, all while reporting the coronavirus crisis for Bullivant Media's titles."
"While we were already stressed with the coronavirus crisis, Bullivant Media heaped this on by not paying us on time, allowing non-editorial staff to try and poach our jobs and failing to listen to our concerns."
Messages of support for the strikers:
Michelle Stanistreet, NUJ general secretary, said:
"On behalf of members across the union I salute the chapel for their strong stand and for the passion with which they are seeking to defend journalists and journalism.
"This is the first NUJ strike under the Covid-19 lockdown. This in itself is a demonstration of the commitment of the chapel and a reflection of the strength of feeling among our members."
---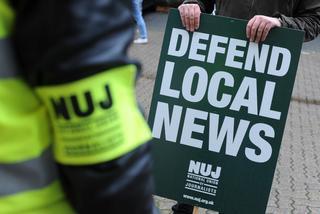 "I offer my support and solidarity in your strike action. I know that you will not have taken this action lightly, but only after you had exhausted all other options. It is simply not acceptable for Bullivant Media Limited to not have paid non-furloughed staff full salaries, to enforce poor working practices, and now to impose compulsory redundancies. Your work and profession plays a vital role in a healthy, democratic society, informing the public of pressing political and social issues and scrutinising the powerful. As such, the employment practices imposed on journalists, and the economic challenges facing the local press, should be a concern to us all. I will continue to do what I can to support you in this dispute and for the profession in general."
Zarah Sultana, Labour MP for Coventry South
"I support all those on strike at the Leamington Observer this week. Staff have only been receiving part of their pay over the last few months, which is unacceptable. There are also plans for redundancies and non-editorial staff have been asked to take over editorial functions, which risks the integrity of the paper. It is vital to our democracy that we have a thriving local press. Therefore, I support the strike actions being taken. I urge Bullivant Media, who own Leamington Observer and a number of sister publications, to resolve this dispute with their employees in a fair way as soon as possible."
Matt Western, Labour MP for Warwick and Leamington
"Quality journalism is essential for Warwickshire. We all depend on local, timely and accurate information to keep us up to date about what is happening in our community – whether it's media coverage about the adverse weather conditions, advice on health and safety, or local events ranging from sports sessions for young people to arts classes for older people. We know about these things because our local journalists report on them. That's why journalism matters, and why I am backing the NUJ's strike. I'm asking Bullivant Media to think again about the job cuts and support local, quality journalism."
Helen Adkins, Labour group leader on Warwickshire County Council
"Journalists sticking together and striking today – some poor treatment of staff by the sound of it, unacceptable even in financially difficult times."
Jonathan Chilvers, councillor and leader of the Green group on Warwickshire County Council
"The Worcester Observer plays a vital role in local democracy – letting local people know what is going on and holding to account our elected politicians. It's for that reason that I urge the management to work with our esteemed local journalists to ensure there are no compulsory redundancies."
Louis Stephen, Green Party Councillor on Worcester City Council
"Local reporters are essential for holding administrations to account and raising awareness of important local issues. We need local journalism to remain in Solihull and the Midlands."
Laura McCarthy, Solihull Liberal Democrat councillor
"Democracy cannot continue unless people know what is going on. In the past the Leamington Observer have printed many stories about important issues in Warwick."
John Holland, Labour councillor for Warwick West
"On behalf of the president, general secretary and 600,000 journalists worldwide the International Federation of Journalists send our solidarity in support of your action in response to the company's redundancy plans and your demands for fair pay and working conditions. It is a scandal, that in one of the richest countries in the world, and in an industry which creates huge wealth, that local journalists are having to resort to foodbanks and are facing deductions from their salary. By cutting jobs the company does nothing to strengthen journalism, does nothing to address the interests of the communities it serves but instead undermines quality and fair working practices. On behalf of our members, journalist unions from across the world we pledge our support and solidarity. We will protest to your management urging them to talk to the NUJ and to change course before it is too late."
President Younes Mjahed and general secretary Anthony Bellanger, the International Federation of Journalists (IFJ)
"All solidarity in your strike action against a company that demands redundancies, and in the middle of a pandemic."
John Pilger
"Sorry you're having a tough time. Redditch and other towns need local journalists and papers. And people need paying! Good luck."
Jacqui Smith, former MP for Redditch from 1997 until 2010
"Full support and solidarity with NUJ"
TUC Midlands
"On behalf of Coventry TUC, I am sending our solidarity to you all regarding your current dispute with your employer, Bullivant Media. We are appalled at how you have been treated by your employer. An injury to one is an injury to all!"
Jane Nellist, Coventry TUC president
"Solidarity to the Bullivant strikers from South East Kent Trades Union Council. An injury to one is an injury to all."
Eric Segal, secretary of the South East Kent Trades Union Council
"The NUJ Chapel at UNISON, the public service union, sends our full support to NUJ members taking industrial action against compulsary redundancies at Bullivant Media. We know that taking industrial action is always a very difficult decision and is always a last resort. We stand with you in your determination to defend jobs and to defend your ability to organise as an NUJ chapel at this employer. You have our support and our very best wishes for a successful outcome for your action."
Amanda Kendal and Carol Rawlings, joint mothers of chapel, NUJ at UNISON
"The Dublin publications and public relations branch of the union would like to offer its support and solidarity to those members taking strike action to stand against compulsory redundancies. We will also be making a financial contribution to the cause."
"A sad demise for a company I worked for in my first ever job as a trainee reporter. Many of the journos I worked with are still there – a great team who shouldn't be treated this way."
Steve Hayes
"Local independent news is vital for the integrity of democracy and society and to ensure local voices are heard and local issues addressed."
Mark Sharon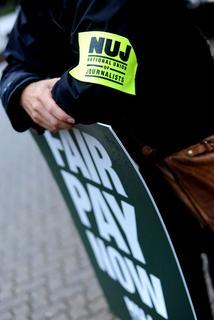 "The NUJ Edinburgh and district branch wish you every success in your campaign against compulsory redundancies. And thank you on behalf of members everywhere for taking a strong stand against this."
"The NUJ Leeds and Wakefield branch sends solidarity greetings and has backed that up with £100 for the Bullivant chapel's strike fund. We would like to offer you our full support at this difficult time as your chapel takes a brave stand against redundancies and the wider issues of low pay and poor working conditions. It has never been more vital that journalists are able to carry out their work in holding power to account and upholding democracy. We hope the board of Bullivant Media see sense and engage in meaningful negotiations to avoid unnecessary job cuts and increased workloads for your members."
"The NUJ book branch has agreed to make a donation of £100 to the Bullivant Media strikers' hardship fund, in solidarity with colleagues taking strike action to oppose redundancies."
"Greetings from the NUJ Bristol branch, where members have asked that we send you a message of support in your brave decision to take strike action. We know how difficult it is to stand up against an intransigent employer and how reluctant you must have been to take this step. We stand beside you in solidarity and we trust that your decisive stand will be recognised by the Bullivant family, who surely must appreciate how much their fortune rests on your talents. A cheque is in the post for your strike fund."
"Solidarity and every best wish from Manchester and Salford NUJ branch. You are fighting for the future of the industry and we are all right behind you."
"The NUJ's public relations and communications council send their solidarity to NUJ members working for Bullivant Media. Local news, properly resourced, has never been more important and local journalists need to be treated fairly by their employers so they can carry out their vital work."
"These hard-working journalists have been exploited for too long – fair pay and decent working practices should not be too much to ask."
Tim Clarke
"Solidarity with journalists at Bullivant Media Ltd, who are facing lay-offs after working harder for less pay."
Vicky Munro
"Best wishes from Montrose in Scotland. I applaud your stance against redundancies, the knee-jerk reaction of management when revenues drop. Don't give in!"
Chad Neighbor
"I would like to add a voice of support and solidarity to the colleagues who will become redundant. Hope for the best during these unprecedented times."
Barbara Langley

"Solidarity and good luck to NUJ members taking action! These are great local papers and staff should receive decent pay and conditions."
Helen Russell
"Fair pay for Journalists! They are more important than ever in these uncertain times."
Film Cafe Co-Op production company
"Standing in solidarity with journalists at Bullivant Media who are on strike over working conditions, unauthorised deduction of wages, plans for a compulsory redundancy and plans to cut professional photography. All will lead to a loss in journalistic quality and standards."
Natasha Hirst, NUJ NEC member and freelance photographer
"When I started broadcasting as a local radio journalist in Birmingham local papers from Warwickshire to Solihull to Wolverhampton and Walsall were a great source of information. Solidarity with the strikers at Bullivant Media Chapel. Local news jobs must be protected."
Michael Fisher, NUJ NEC member for the Republic of Ireland
"Solidarity and support to all standing up for their rights today – we stand beside you!"
Kathryn Johnston
"I believe passionately about local news – it matters today more than ever before."
Claire Harrison
"Best wishes and support to Bullivant Media local journalists on strike today against job cuts and attacks on their conditions"
Tom Davies
"Solidarity with NUJ members taking action today. This is more than a fight to protect jobs and pay after unlawful deductions by their employer. It's also about defending quality local journalism that properly serves their communities."
Georgina Morris
"Solidarity with colleagues defending local news."
Amy Hunt
"Solidarity with striking members of the NUJ – this COVID19 pandemic has shown how important serious journalism is. In a time of fake news and misinformation, journalists are nothing less than essential workers."
Fórsa trade union, Ireland, Cork branch
"Fair pay for journalists!"
Alistair Waugh
"Sending our support and solidarity. We too face job cuts and have suffered pay deductions without consent. Good luck to you all."
NUJ Express newspapers chapel
"Just to say that all of Scotland stands with you today in your fight against an employer which has treated you with nothing but contempt. For those of you who have been working so hard during the pandemic to report on its impact, the very least you could expect is to be paid properly and on time. To watch the titles you are devoted to, reduced to a patchwork of cut and paste press releases – or almost incoherent gibberish – is shocking. Your fight is our fight and journalists across the UK stand with you."
James Doherty, former NUJ president and NEC member for Scotland
"Victory to the journalists, striking for the the right to live without the fear of being forced out of their jobs and not being paid what they are owed."
Gill Hitchcock
"Solidarity with Bullivant journalists."
Cathrina Hulse
"Support local, they are normally run and written by people who know and care about their communities. Solidarity."
Garrett Hargan
"Solidarity with all NUJ members on picket lines today."
Kevin Cooper
"I spend two days a week working for a rival to the Bromsgrove Standard but completely behind them with this. Hope your strike action has the desired effect as it seems you've been treated awfully – even for an industry where terrible treatment of workers is par for the course."
Michael Beardmore
"Solidarity to the courageous journalists making a stand for local news and jobs today."
James Davies
"Good luck and solidarity to those taking this important stand to defend jobs and local journalism. Local news is vital for the health and well-being of local communities."
Dave Toomer
"On behalf of members of the NUJ Edinburgh freelance branch, I send our support for your strike action today and tomorrow. We stand by you in your campaign to resist Bullivant's compulsory redundancies and wish you every success in your campaign. At yesterday's branch meeting, we agreed to donate £50 to the strike hardship fund."
Wishing you all the best, Mark Fisher, branch secretary
"Huge solidarity from members of the Oxford and district NUJ branch to our colleagues in the Bullivant Media chapel taking strike action today in defence of jobs and journalism. It is so important to stop this slow death of independent news reporting. Trying to replace that with a cut-and-paste service for press releases shows contempt for readers, which is no way to sustain a newspaper business. We urge Bullivant Media to get back to the negotiating table, and we will be sending a donation to help sustain your action. Best of luck."
Anna Wagstaff, branch secretary
"Please pass on our warmest good wishes and fraternal solidarity to sisters and brothers on strike at Bullivant, from all at NUJ East Yorkshire branch."
John Jones, branch secretary
"Brighton and Sussex NUJ members stand in solidarity with colleagues forced to strike by Bullivant Media. Compulsory redundancies are invariably the last resort of a failing management."
"Solidarity with NUJ members on strike today. Bullivant Media need to do the right thing. Quality local journalism is more important than ever, and journalists deserve fair pay and to be treated with respect."
Lucy Bailey
"Solidarity with NUJ members in the Midlands fighting for fair pay and local news."
Jeremy Morton
"A twist on the old 'angry people in local newspapers' – here we have 'angry people from local newspapers'."
John Sturgis
"Best of luck to those standing up for local news this morning in Worcestershire. I cannot express enough how vital quality local journalism is!"
Samuel Evans
"Solidarity with colleagues defending local news."
Nima Akbarpour
"Local journalism is at the heart of true local accountability. Coventry has some of the best in the country and happy to show support for you all."
Nukey Proctor
"Sending solidarity with my fellow NUJ members in Redditch today."
Grant McKenzie
"Solidarity with NUJ members fighting for local news."
Carolyn Farrar
"Local news really matters – day-to-day often more than national newspapers and networks. And those journalists delivering it need our support – now more than ever. Solidarity with my NUJ colleagues forced to strike today at Bullivant Media Limited."
George Herd
"Diesen Streik der Kolleginnen und Kollegen können wir hierzulande aus vollem Herzen solidarisch unterstützen! Support and Solidarity to our colleagues and friends for the strike!"
Tina Groll
"Solidarity with the NUJ members in their struggle."
Johnson's Solicitors
"Solidarity with Bullivant journalists on strike today."
Andrew Draper
"Best wishes to brothers and sisters on strike amid the pandemic. Solidarity!"
Robin Wilson, former NUJ FoC and Belfast and district branch secretary
"Unite the Union in the West Midlands offers its solidarity to local NUJ members working in the West Midlands for Bullivant Media Limited, who are taking strike action this week. Unite West Midlands stands in support of these workers in their fight to ensure that journalists are paid what they are owed and that staff are consulted over restructure proposals."
Annmarie Kilcline, Unite the Union West Midlands regional secretary
"Solidarity to NUJ members at Bullivant Media on strike today."
David Nicholson
"The National Shop Stewards Network to send our solidarity to the NUJ and your members who on strike at Bullivant Media Limited. We totally support your fight to protect jobs and working practices. We will do all we can to build support for your campaign to win your demands."
Rob Williams, chair
"Solidarity to NUJ colleagues striking today. Reporters having to take nightshifts in a warehouse to avoid rent arrears 'all while reporting the coronavirus crisis for Bullivant Media's titles' is a shameful state of affairs."
Bimpe Archer
"Solidarity to NUJ members taking strike action in Redditch to defend jobs, fair pay and the future of local journalism. Local journalists are the bedrock of our communities, keeping us informed and holding the powerful to account. Unite West Midlands stands with you."
Asif Mohammed
"Well done to Bullivant journalists fighting for fair pay and standards."
Amy Fenton
"Sad to see so many local newspapers across the country closing and others under threat. Towns lose a little bit of their soul every time that happens."
Michael Prosser
"No one will know better than you that this has been a difficult time for local newspapers and media. However, the work pressures being placed upon you, the failure to consult properly, the absence of communication from management plus the despicable manner in which salaries have been reduced without notice is both distressing and inexcusable. Please accept the unequivocal support of Coventry and Warwickshire People's Assembly."
Phil Street, convenor
"The NUJ's magazine and book council sends solidarity greetings to NUJ members working for Bullivant. How can we function as any kind of democracy without good, well-run and well-resourced local newspapers and other media? We say that employers must treat local journalists fairly – starting right now! Good luck to you all."
"Before I forget, in the midst of deadlines… solidarity with my NUJ colleagues at Bullivant."
Simon Barrow
"Open your eyes and realise what kind of a world you'd be living in if there weren't any good journalists which is exactly what these guys are. Frankly they deserve better and have had the balls to stand up for what is right. Good on them."
Kara
"I wish you every success in your stand against a management whose behaviour is unacceptable at any time. The stand they are taking now is inhumane. I feel there is no other word for it. I sincerely hope that the Bullivant family see sense and realise that their stubborness and intransigence seriously threatens the credibility and viability of the business and the livelihoods of everyone involved. It is sad that they have not appreciated this already. Their employees, the readers of the titles and the communities you serve deserve better. I commend your stand and your determination makes me proud to be a member of the NUJ. Be strong and keep fighting."
Adam Christie, former NUJ president and NEC member for Yorkshire, Humber and North East region