Palestine: IFJ backs call for UN commission to investigate crimes against journalists
The head of the Palestinian Journalists Syndicate (PJS), Nasser Abu Bakr, has called on the United Nations Human Rights Council (HRC) to condemn attacks on media and to send a commission to investigate the crimes against journalists in Palestine.
He made his plea to a special session of the HRC held on Wednesday 27 May. The International Federation of Journalists welcomed the call and demanded an end to impunity for attacks carried out against journalists and media in Palestine.
In recent weeks Israeli forces have bombed and destroyed three buildings housing 33 media companies, dozens of journalists have been arrested, beaten and more than 500 cases of internet blocks and violations of digital rights were recorded in Palestine between 6 and 29 May.
Nasser Abu Bakr said:
"In clear violation of International law, the Fourth Geneva Convention and United Nations resolutions to protect journalists in times of war, the Israeli occupation forces committed a crime against humanity by bombing buildings holding press and media offices, which led to the destruction of international media institutions offices such as Al-Jazeera and the Associated Press. 33 media institutions were completely destroyed and four institutions were partially destroyed, in addition dozens of journalists' homes were bombarded and destroyed, which led to the killing of Al-Aqsa radio broadcaster Yusef Abu Hussein and the wounding of dozens of journalists."
In 2020 the PJS documented 608 attacks on journalists and media, including 490 violations by the Israeli army and security forces. In December last year the IFJ submitted formal complaints to the UN about the systematic targeting of journalists by Israel and called for action to end the impunity with which those attacks are carried out.
Nasser took part in one of the NUJ's Delegate Meeting Week's Talk-ins, Journalism under attack, the unions fight back, on Thursday 20 May. He said: "I'm talking to you while inhaling the gas fired by the Israeli occupation. We are only a few metres here from the Israeli military."
Earlier that day his colleague radio journalist, Yousef Abu Hussein had been killed after his house in the Sheikh Radwan neighbourhood of Gaza was bombed.
Video and report of the Talk-in event: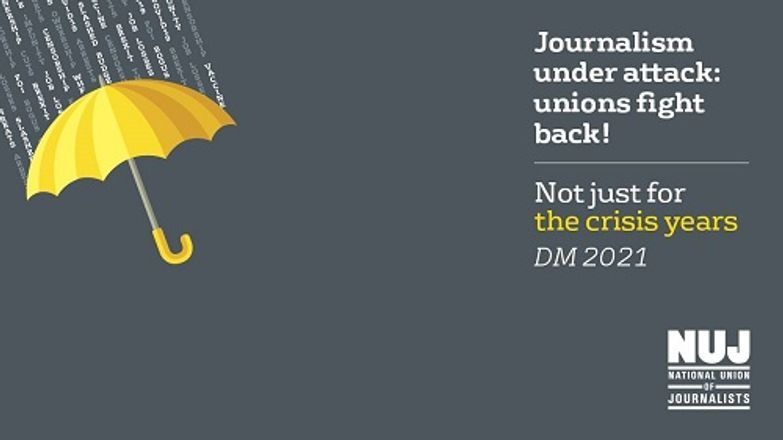 Press representatives from Palestine, India, Turkey, Namibia and America join Jeremy Dear, deputy general secretary of the International Federation of...