NUJ pays tribute to Mary Maher
The pioneering journalist, trade unionist and founder member of the Irish Women's Liberation Movement, has died aged 81.
Mary died this morning at St Vincent's Hospital, Dublin. She had been in failing health for some time.
Public tributes have been led by the President of Ireland Michael D Higgins. The NUJ has received countless messages of condolences d tributes.
In his statement President Higgins said:

There will be so many who will have been deeply saddened to learn of the death this morning of Mary Maher. A passionate feminist and trade unionist, Mary was a true trailblazer, role model and inspiration.

The death of Mary Maher represents the passing of one of the founding elements of the Rights Movement and Women's Rights in particular. Her importance as an activist in the public area was accompanied by a professional commitment in journalism that broke so many ceilings, all of which advanced the causes that affected women's lives.

Throughout her life, Mary set about tackling barriers of exclusion. She was the first woman to return to the Irish Times after her marriage (in the process leading to the lifting of the paper's marriage ban), the first to avail of maternity leave, the first editor of the paper's women's page, the first woman to lead a national newspaper trade union chapel, and the first NUJ member appointed to the Employment Appeals Tribunal.

In her role as the first women's editor of the Irish Times, Mary took it as her task to ensure that women's issues were covered by the paper, but also that what was defined as women's issues were not those topics which men may have wished to stereotypically assign to them. She ensured that the full range of social issues were tackled, especially those which have serious impacts on women's lives and which Irish society was failing to address.

As well as being a superb reporter, editor and features writer, Mary was also an accomplished author and playwright and through this work continued to highlight the serious issues facing Irish life. She leaves a further legacy as a lifelong advocate through the labour movement, and as a campaigning trade unionist, held in the highest esteem by colleagues in the NUJ.
Sabina and I were privileged to be friends of Mary and would like to extend our deepest sympathies to Mary's daughters, Nora and Maeve, sister Bonnie, brother Jerry, grandchildren, and all of her many friends and family.
Michelle Stanistreet, NUJ general secretary described Mary as "an inspirational figure who blazed a trail by putting equality at the heart of the union's industrial agenda". She added:
"Mary Maher was an NUJ Member of Honour, a role model for women and a passionate believer in the power of well organised, disciplined chapels. She will be missed for her hard work, her dedication and for her good humour."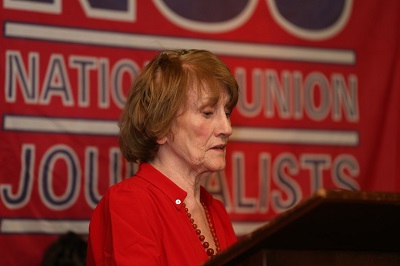 Séamus Dooley, assistant general secretary described Mary Maher as "a mould breaker who made a sustained contribution to the struggle for equality and social change".
He said: "Mary Maher was one of the most influential members of the group who formed the Irish Women's Liberation Movement.
"Through multiple roles as a feminist activist, a journalist, author and a passionately committed trade unionist Mary set headlines. She saw the necessity for making women's rights a core mission of the wider labour movement and throughout her life she continued to work through the labour movement.
"Mary's career was marked by a number of firsts and she leaves a legacy of records set and broken.
"She was the first woman to return to the Irish Times after her marriage – leading to a lifting of the notorious marriage ban, Mary was also the first woman in the organisation to avail herself of maternity leave. She was the first editor of the Irish Times woman's page and at a union level became the first woman to lead a national newspaper chapel.
"In the male dominated world of print unions, she became the first woman and the first NUJ member to receive the traditional noisy tribute, a knock out from print unions at The Irish Times, a measure of her standing within the wider union movement.
"The NUJ extends sympathy to Mary's daughters, Nora and Maeve, sister Bonnie, brother Jerry, grandchildren, relatives and wide circle of friends."
Biography: Mary Maher was born in Chicago on November 9th, 1940 to an Irish American family. She began her journalism career in the right-wing Republican Chicago Tribune but worked for four decades in the Irish Times where she was hired by legendary News Editor Donal Foley.
She served as first editor of "Women First", a page which helped shape the campaign for women's equality and covered a range of topics from the housing shortage and the class bias of education to the need for trade unions to defend women's rights.
She was succeeded by her close friend and collaborator Maeve Binchy. She served as a reporter, editor, sub editor and features writer at the Irish Times. In addition to her role as chapel officer Mary was former Chair of the Irish Executive Council of the NUJ and served on the union's National Executive Council.
She served on the Women's committee of the ICTU and for a number of years on the Congress Standing Orders committee. In retirement she became the first NUJ member appointed to the Employment Appeals Tribunal. She served on the Legal Aid board. She was also a founder member of the musical Clé Club and the Larkin Hedge School at Liberty Hall, Dublin.
Mary was an author and playwright. One of her books, The Devil's Card, concerns a famous Chicago murder of 1889. In 1973 she wrote You and Your Baby (Lifestyle Ireland). She collaborated with her (separated) husband Des Geraghty on a 1994 book about their friend: Luke Kelly – A Memoir. She contributed to Rapunzel's Revenge: Fairytales for Feminists (1985).
Short stories by hers appeared in If Only (1997) and True To Type (1991), an Irish Times tribute to former colleague, the Rev Stephen Hilliard, who was murdered. She wrote the introduction and stories for Changing the Times (2003) by 15 Irish Times women, edited by Elgy Gillespie. Among her plays was Desperadoes, about Dublin street children. Maher co-edited a posthumous book of Maeve Binchy stories.
Séamus Dooley has written a biographical essay on Mary Maher in "Left Lives Four", published earlier this year.
The Irish Times carried a special Irishwoman's Diary on the occasion of Mary's 80th birthday.