Newspaper journalists on strike today
Journalists take action in response to redundancy plans, new working practices and being underpaid.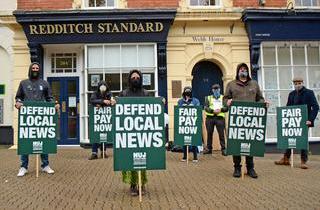 NUJ members working for Bullivant Media Limited begin strike action today and tomorrow in response to the company's redundancy plans, new working practices, and after months of journalists being underpaid.
The company runs weekly free newspapers and websites with titles including the Coventry Observer, Leamington Observer, Rugby Observer, Stratford Observer, Solihull Observer, Redditch Standard, Bromsgrove Standard, Worcester Observer and Evesham Observer.
The dispute also concerns non-editorial staff taking on journalistic work from outside the editorial department and the NUJ is concerned this could have a negative impact on journalistic quality and standards.
The Bullivant Media NUJ chapel said:
"Strike action is a last resort and we continue to invite the company to respond to our reasonable demands for fair pay and decent working practices.
"Working non-furloughed staff, many already on the breadline, have considered using foodbanks after getting to the end of each month and discovering they have been underpaid, or there has been a 50 per cent deduction from their wages."
Acas talks between the NUJ and Bullivant Media Limited ended on Friday 21 August without reaching an agreement. There are no further Acas talks planned.
Also on Friday, Bullivant Media Limited confirmed they were going ahead with cutting three editorial jobs – two volunteers and one strongly contested compulsory redundancy. Initially the company put five jobs at risk but negotiations with the NUJ has reduced this number to three.
NUJ members fear there will be more job cuts in the coming months.
The Bullivant Media NUJ chapel added:
"We understand the impact of the coronavirus pandemic on businesses and the media industry, but staff have been left in the dark and out of pocket.
"At the same time the company has demanded more journalistic output and staff have gone without annual leave and there are health and safety concerns with a small, hard working team being pushed beyond their limit.
"NUJ members who have driven the digital audience growth at the company are opposed to the divisive attempts to allow non-editorial staff to take on journalistic work from outside the editorial department.
"Copied and pasted government press releases are not real journalism and content that ought to be marked as advertisement features should not masquerade as online news. This is clearly set out in the NUJ's ethical code of conduct.
"The NUJ believes the restructuring and redundancy proposals have been used as an attempt to derail and demoralise the chapel with the company seemingly targeting the active and leading members of our union.
"All we are asking for is that journalists are paid what they are owed in future, and staff should be properly consulted on the restructuring proposals. We also want the company to agree to avoid compulsory redundancies. That is why we are on strike today."
Chris Morley, NUJ Northern and Midlands senior organiser, said:
"It is with huge reluctance that our members take strike action – in the middle of a pandemic.
"But the issues that are core to them as professional journalists have not been properly addressed over a long period. And they have the right to live without the fear of being forced out of their jobs or not being paid what they are owed.
"We have had many hours of talks with the company through Acas but the key issues for NUJ members have not been resolved. We remain ready to seek a positive way forward to give this company more chance to succeed with the right working practices."
Séamus Dooley, NUJ assistant general secretary said:
"As a former regional newspaper editor I know the importance of independent, local journalism. Our members at Bullivant Media are professional journalists with a pride in their work. They are entitled to fair pay, to proper terms and conditions of employment, and to be recognised for the value of their work.
"There is overwhelming goodwill towards the chapel among the local community and I hope that management will, even at this late stage, do the right thing for the staff and for the newspapers. To be forced to take industrial action in the midst of a pandemic is something no union member wants to contemplate and it is very disappointing that the employer has not engaged constructively with the NUJ."
The NUJ chapel at Bullivant Media Limited was formed earlier this year and includes all 18 members of the editorial team.
The chapel voted unanimously in favour of industrial action and plan to strike again on Tuesday 1 and Wednesday 2 September, with potentially more action to follow.