Kent Police accused of "flagrant disregard" of journalists' roles
An arrested freelance photographer received a fine a week after his charges were dropped for covering a protest in Folkestone.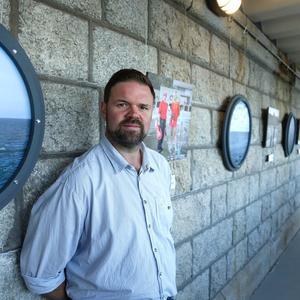 Andy Aitchison, who was arrested and had his camera card and phone taken by the police while covering a protest at Napier barracks, was sent a fine for breaking Covid-19 rules a week later, despite being previously cleared following intervention from the NUJ.
Andy had taken pictures of demonstrators highlighting the plight of asylum seekers held at the barracks. Police later came to his home, charged him under suspicion of criminal damage, took his equipment and he was prohibited, under his bail conditions, from returning to Napier Barracks.
The NUJ had a letter sent to Kent police saying Andy had clearly acted as a journalist and under the Police and Criminal Evidence Act his material was protected and they did not have the power to seize it. On Friday 5 February, the police said they would not be pursuing his case and his belongings were returned. The NUJ called for an inquiry into Kent police's action and an apology for Andy.
Just days after the police had refused his criminal charges, he received a Fixed Penalty Notice (FPN) of £200 for breaching Covid-19 rules while attending the demonstration. News gathers are key workers and Andy was entitled to attend the protest.
On 17 February, Bindmans law firm sent urgent written representations to Kent Police on behalf of Andy and the NUJ and in response Kent Police's legal department confirmed they had reviewed the matter and that the FPN had been "issued erroneously".
Michelle Stanistreet, NUJ general secretary, said:
"This has been a sorry story and very distressing for our member Andy Aitchison. We are still waiting for an apology for Andy from Kent Police and the force still has questions to answer. It needs to explain why Andy, who was acting completely within his rights and just doing his job, was wrongly arrested and wrongly had his journalistic material taken."
Andy Aitchison said:
"I am relieved that the Fixed Penalty Notice has been cancelled. Receiving the fine a week after the charges had been dropped on my arrest, felt unbelievable; it appears the police have such little understanding of the COVID guidance and journalists work. This was an unnecessary stress and concern for myself and my family and cause for concern for all journalists. I am grateful to Bindmans and NUJ for their support in getting this resolved quickly."
Rachel Harger of Bindmans law firm said:
"It is completely unacceptable that not only has our client been subject to the threat of criminal charges for simply attending a demonstration in his capacity as a journalist, Kent Police has now sought to further criminalise him by issuing an FPN days after refusing criminal charges against him. In doing so, Kent Police have acknowledged in the FPN itself that our client was in attendance at the location in his capacity as a 'freelance journalist'.
"This repeated conduct by Kent Police is arbitrarily obstructive of the crucial work carried out by journalists and it shows a flagrant disregard of all journalists' ability to report on events which the wider public plainly benefit from being informed of. I am relieved for our client that the FPN has been withdrawn but he must be afforded a full and meaningful apology by Kent Police."