Jim makes it three in a row
Former NUJ president and serving NEC Member Jim Boumelha has been re-elected as treasurer of the International Federation of Journalists.
He was elected for a third term at the triennial world Congress in Oman, defeating Mogens Blicher Bjerregård from Denmark, currently President of the European Federation of Journalists.
Jim is pictured below with Dominique Pradalié, who was elected IFJ President. She is former general secretary of Syndicat National des Journalistes (France) and only the second woman to hold the post.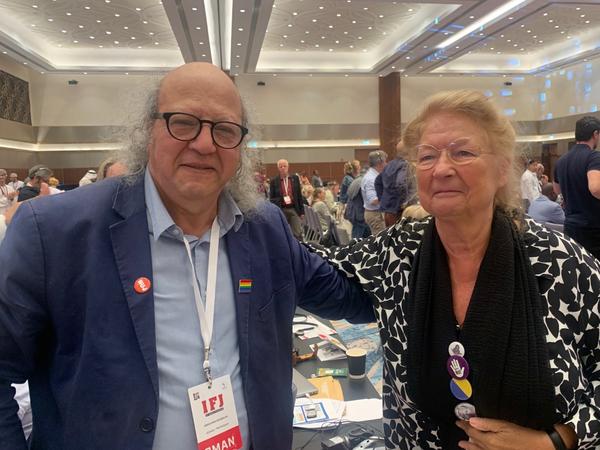 The NUJ played a leading role in the IFJ Congress with President Pierre Vicary serving on the presidium, whose members chair debates at the conference, attended by 200 delegates representing 100 journalists' unions.
Sian Jones made a powerful contribution including on the issue of campaigning for equal pay, setting out the NUJ's achievements for women in the BBC.
The threat posed by spywear Pegasus was highlighted by Tim Dawson, who also moved a comprehensive motion in support of journalists in Ukraine.
Oman has a poor track record in human rights, including freedom of expression, women's rights and LGBTQ rights.
Séamus Dooley, NUJ assistant general secretary, expressed solidarity with all those whose voices are silenced in Oman. The NUJ delegation wore rainbow badges, itself a breach of the penal code against LGBTQ activism, in solidarity with gay, lesbian and trans people in the country. Other delegations also wore rainbow badges after the NUJ's intervention on the subject.
All NUJ motions were passed including those on defending and supporting journalism.
Read more on the 31st IFJ congress.