International Day for the Elimination of Violence against Women 2021
Violence against women and girls is one of the most widespread and devastating human rights violations in our world today.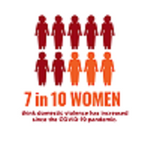 A report published by UN Women shows that COVID-19 has intensified violence against women with one in seven women saying domestic violence has increased during the pandemic. Two in five women said that COVID-19 has worsened their overall mental and emotional health. Domestic abuse takes many forms, from overt physical or sexual abuse to psychological abuse, coercive control and financial abuse. It is caused by gender inequality and is often hidden from view, making it hard to identify and seek support.

On average, a woman in the UK is killed by a man every three days. Internationally, everyday 137 women are killed by a member of their family.
One in four women in Ireland who have been in a relationship have been abused by a current or former partner.
That's why we are taking part in a day of action for International Day for the Elimination of Violence against Women #IDEVAW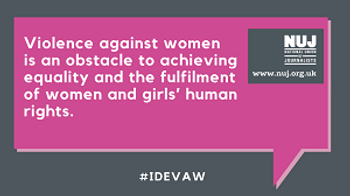 Digital abuse can include:
Cyberbullying
Non-consensual sexting
Doxing (the public release of private or identifying information about the victim).

That is why the NUJ is asking you to take part in a day of action to promote awareness of violence against women. As journalists we must all play a vital role in increasing the understanding of violence against women and ask governments why they are failing to protect their nation's women and girls.
Eliminating VAWG is a collective and trade union issue. The NUJ::
Ensures that our policy responses identify forms of violence experienced by women journalists. This includes ongoing work on the Online Harms Bill, the National Committee for the Safety of Journalists action plan and safety toolkit, intersectional work on sexual harassment and motions to Women's TUC that raise awareness and solidarity.
Runs workplace campaigns on pay transparency and equal pay which play a role in fighting gender inequalities and work with employers to put domestic abuse policies into place.
Represents members who have experienced sexual harassment, or sex/pregnancy discrimination - sending a message to employers that we do not tolerate gender inequality.
Embeds gender equality into our reps' training courses and industrial work.
The NUJ Equality Council supports the work of the wider union on gender equality through an intersectional approach.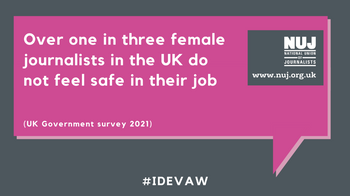 We welcomed the UK's ratification of the ILO's Violence and Harassment Convention which now provides great protection for women at work, including from third parties.

As a trade union, the NUJ stands in solidarity with women and girls around the world, who experience violence in many forms. Women journalists live with the constant risk of harm – The treatment of women journalists in Afghanistan will also be fresh in our minds as many tried to flee or have gone into hiding as the Taliban has cracked down on women's rights. Afghan girls have been prevented from going to school. We continue to support the work of the IFJ in bringing women journalists to safety. Donate to the Afghan Safety Fund.
Other forms of violence against women and girls include:
Sexual violence and harassment (rape, forced sexual acts, unwanted sexual advances, child Sexual abuse, forced marriage, street harassment, stalking, cyber-harassment);
Human trafficking (slavery, sexual exploitation);
Female genital mutilation; and child marriage.
Violence against women continues to be an obstacle to achieving equality and the fulfilment of women and girls' human rights.

What you can do:
Help raise awareness by sharing our resources online on Thursday 25 November.
Sign up for reps' training and our regular reps' briefings to share your concerns and seek advice on action you can take in your workplaces, including protecting freelances.
Join our Equality, Diversity and Inclusion network for updates, resources and information sharing. Email

[email protected]

Enourage employers to take action to protect the safety of women at work, including domestic abuse policies, pay campaigns and robust health and safety assessments that include late and lone working risks.
Invite a member of the NUJ's Equality Committee to your branch to discuss the NUJ's work and campaigns on women's rights.
Men can #MakeThePromise and take part in the White Ribbon Campaign
Support
If you are experiencing financial hardship as a result of domestic abuse you can get in touch with NUJ Extra to seek support, either directly or through your branch Welfare Officer.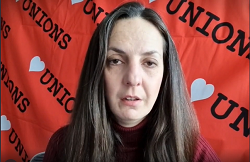 Natasha Hirst, NUJ vice president and domestic abuse survivor, explains how union activism helped put her life back on track, including her work as a freelance photographer
Resources
The NUJ contributed towards the development of the Zero Tolerance media guidelines and resources for journalists who report on violence against women and we encourage all to take the time to read and use the resources.
The Femicide Census collects the numbers of women who have been killed in the UK and the men who have killed them. The killings of Sarah Everard, Bibaa Henry and Nicole Smallman were deeply shocking, but the vast majority of women are killed by someone they know within the domestic sphere.

Women media workers also need to make sure they are safe during their domestic and working lives. NUJ is a member of the government's National Committee for the Safety and Protection of Journalists and is working on an action plan to prevent violence against media workers. Over one in three female respondents to a government survey. (November 2021) said they do not feel safe operating as a journalist.
A TUC report showed that 7 in 10 disabled women workers have experienced sexual harassment.
Violence Against Older Women website

DART Centre for journalism and trauma:

Women's Aid
#PopUpNews #16days #IDEVAW #WhiteRibbonDay