Fourth day of strike action for Bullivant journalists
Journalists are again out on the picket line today as more support is offered to the strikers.
Bullivant Media Limited journalists have started their fourth day of strike action today, they are striking over pay, working practices and compulsory redundancies at the company.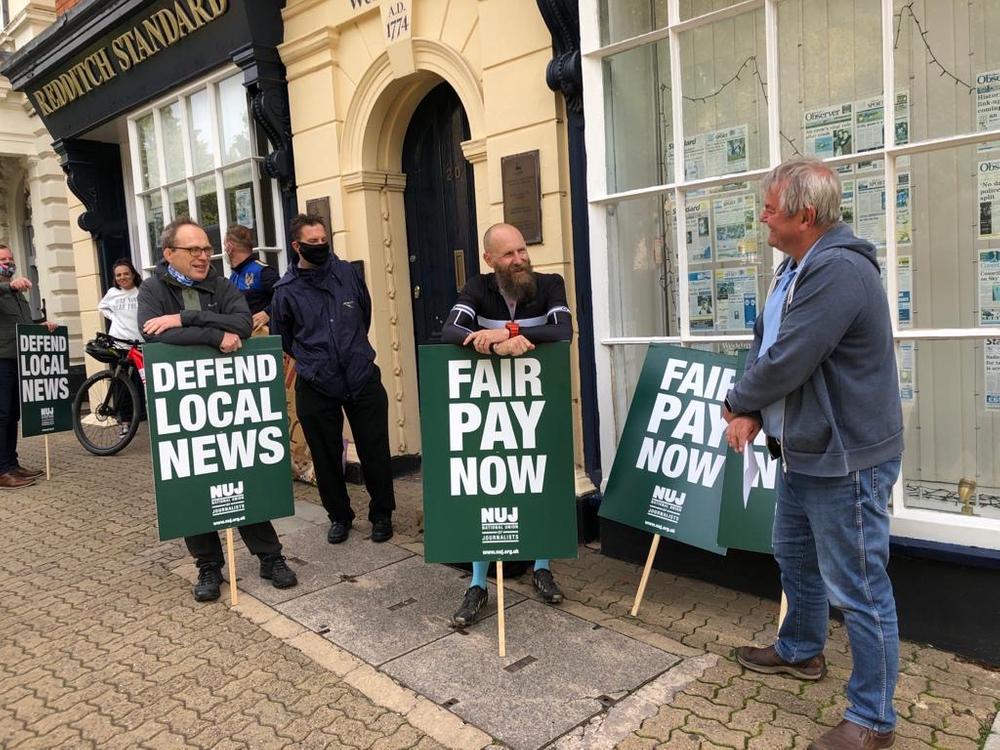 The Bullivant Media NUJ chapel said:
"We are standing up for journalists and journalism. Our demands remain the same and are reasonable – we want to be paid what we are owed each month; we want to be consulted on restructuring plans; we want the company to avoid compulsory redundancies; and we want the editorial department to have responsibility for editorial output.
"We are dismayed by the changes that have been made to professional and editorial standards. As journalists we are committed to accuracy and balance, and the public interest. We want to produce quality journalism that serves our local communities. That is what our readers want and deserve. Quality journalism makes economic sense and is key to the survival of local media."
Messages of support for the strike
"Local journalism is at the heart of local communities. It's at the forefront of telling local stories and fighting for local issues. I give my support to Coventry Observer journalists and all those taking industrial action for fair pay, job security and for the future of journalism."
Taiwo Owatemi MP
"Support the Bullivant strikers who are defending pay that reflects the value of professional journalism."
Geoff Meade
"Congratulations on taking a stance against this bullying employer. No proper journalist deserves the treatment which is being meted out to you. Stick together and you'll win the support of all NUJ members for the example of true solidarity which you're setting."
Chris Young
"James McCarthy here, veteran of the month-long action at the Coventry ET some years back.
Good luck with it. Stay strong. You can make a difference. Don't let the bastards grind you down!"
"Solidarity with our striking friends at Bullivant Media today"
NUJ Vice chapel
"Sending solidarity and resolve to journalists of Bullivant Media treated so shoddily. Your noble fight for standards in local media is one that resonates with most members of the union. The work you do is vital for democracy. Thank you for taking a stand, and best wishes in your battle."
Dara Bradley, joint Cathaoirleach of NUJ Irish executive council
"Full solidarity with Bullivant Media journalists. Shame on Bullivant Media for disregarding their basic labour rights!"
Andrea Glioti
"All at RED Learning Coop send solidarity to striking journalists at Bullivant Media"
"NUJ Wiltshire branch support Bullivant strikers."
Bob Naylor
"Good luck and best wishes for a successful and warranted action. Journalism is a skill and an art. It's not a minimum wage job. Keep punching!"
Tom Faulkner
"Journalists at Bullivant Media have been forced to take more industrial action in their dispute over late pay and redundancies. We stand in solidarity with NUJ members on strike and call on Bullivant bosses to play fair with their greatest asset – their editorial staff."
West Midlands Labour Party
"Good on the NUJ members in Worcestershire that are on strike. Journalism is a vocation, but it would seem that Bullivant Media are taking advantage of that fact and exploiting the dedication and professionalism of their staff. The staff have now said 'no more' and are to be applauded."
James Linsey, vice chair, Worcester Labour Party
"Solidarity with NUJ members at Bullivant Media taking a stand for fair treatment of journalists and quality local journalism."
NUJ London magazine branch
"Solidarity with all Bullivant strikers"
Kevin Cooper
"As a proud life NUJ member I want to offer my support to the Bullivant strikers in their courageous campaign for fair pay and recognition of the value of professional journalism."
Geoff Meade
"Solidarity with NUJ colleagues"
Greg Livsey
"I am shocked to hear about the way you are being treated. It's appalling that employers are still acting like this in 2020. Solidarity in your struggle. And best wishes"
Terry Macalister
"Solidarity with NUJ members on strike at Bullivant Media"
Jeremy Morton
"Solidarity to all our NUJ members on strike at Bullivant Media. They deserve to be treated better and the strike is in response to voluntary and compulsory redundancies, new working practices, and after months of journalists being underpaid."
David Nicholson
"All power to the elbows of Bullivant Media journalists on newspapers in the West Midlands, who are in the second phase of strike action today."
Harry Taylor
"Good luck with your strikes. As you say, the ballot result sends a clear message to the company that it needs to respond speedily to your legitimate demands for fair pay and working practices, and no compulsory redundancies. As a veteran of the 1978/9 strike, I can confirm that strike action can be hugely effective if it's unanimously supported. It's different now, of course, but in 78/9 we found it useful to take the office diary and any unused copy out of the building beforehand!"
Barry McLoughlin
"Solidarity with NUJ"
Cllr Sue Moffat
"Bloody good! I can't drum up support as I live in Paris, but I am glad to hear that the union is flexing its muscles against one of the rogue employers who appear to dominate the world of journalism (and other worlds too) these days."
Angus Sibley
"Solidarity with the NUJ Bullivant Media chapel in their defence of pay, conditions and editorial independence. Support the future of local and regional print media."
Phil Berry
"Solidarity"
Debra Fox
"Solidarity to NUJ members striking against Bullivant Media, which owns our local paper the Coventry Observer – I've worked with these journalists in the past, all committed to reporting what's actually going on and offering a genuinely balanced perspective on local struggles."
David Ridley
"Today I received my life membership card after more than 40 years in this wonderful union. I am proud and humbled at the same time and so much in solidarity with you young people. You may not realise it fully now but you are making history, stand firm and stand up for your rights and fair wage. The union movement is all of us and the NUJ is the most important of them all. For in a democracy there is no greater or higher duty than for the people to be informed honestly and truthfully. Stand by the code of conduct, never give up the fight. In solidarity"
Stephen Wilkinson
"Solidarity with NUJ colleagues in the Bullivant Media chapel"
Michelle Hennessy
"Solidarity with the Bullivant journalists who continue to put themselves on the line to defend local news."
Carolyn Farrar
"Defend local news. Solidarity with the Bullivant Media chapel members on strike in England."
Michael Fisher
"Sending support to members of the Bullivant Media NUJ chapel today, as they are striking over poor conditions, poor pay and a string of voluntary and compulsory redundancies at the publisher. Thanks for helping people organise, NUJ."
Jake Tucker
"Guys you stick it to them, was a regular reader of the Coventry Observer when I lived there and as a fellow NUJ Member, I fully support your actions and commitments."
Demon Lee
"The NUJ's broadcasting council sends its support and best wishes to all the journalists taking strike action at Bullivant Media. We know how important local journalism and local newspapers are to our industry. We condemn the behaviour of the management and call on them to do the right thing and bring this dispute to an end."
"Full support and respect for you in your battle against disgraceful archaic management practices."
Peta Van den Bergh
"Offering total support for this strike."
Deirdre Donnelly
"North Lancs and Westmorland NUJ branch wants to pass on its support to the strikers at Bullivant Media and has sent a cheque to help."
David Barnes,chair
"Dear Bullivant journalists, I send you my support in your campaign for jobs and decent working conditions. You are an inspiration to journalists and trade unionists everywhere."
Derek Brooks
"Dear Bullivant staff, I wish to offer you my solidarity and support during your action. I am a former journalist now teaching the subject at university. As lecturers too recently undertook strike action, I understand how demoralising and stressful it can be. But your fight is an essential one. Good luck with your action."
Barbara Henderson
"Best wishes, support and solidarity to our sisters and brothers in Bullivant Media chapel taking courageous strike action against the threat of unnecessary compulsory redundancies. I am proud to be a member of the NUJ and to stand at your side as you fight to uphold all our rights as journalists. 'It is always the right time to do the right thing'."
Kathryn Johnston
Redditch Labour Party agreed the following emergency motion at its meeting –
"Redditch CLP recognises the value of local and regional newspapers that provide local communities with well informed and responsibly reported news written by professional journalists. Therefore it is disturbing to learn that the owners of our local Redditch Standard and other titles across Worcestershire are proposing to reduce the numbers of editorial staff working on its titles and altering working practices in the editorial department... We also deplore the use of non-editorial interference in producing copy and paste articles and advertisements purporting to be genuine local news. Therefore, this CLP congratulates the Bullivant Media NUJ chapel for defending the jobs, terms and conditions and editorial independence in its current industrial dispute with the company and sends a message of solidarity to the NUJ chapel and its members."
The resolution was carried unanimously and every speaker at the meeting spoke in support, not only of the resolution, but praised the local journalists at the Redditch Standard for their balance in reporting local issues.
The NUJ chapel at Bullivant Media includes all 18 members of the editorial team and the company runs weekly free newspapers and websites with titles including the Coventry Observer, Leamington Observer, Rugby Observer, Stratford Observer, Solihull Observer, Redditch Standard, Bromsgrove Standard, Worcester Observer and Evesham Observer.