Bullivant strikers begin second day of action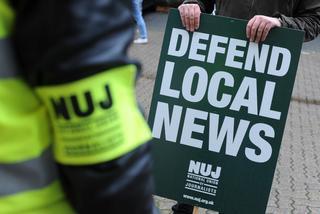 NUJ members start their second day of collective industrial action on the picket line this morning outside the Redditch Standard newspaper and Bullivant Media Limited HQ as part of an ongoing dispute over jobs, pay and quality journalism.
Bullivant Media Limited NUJ chapel said:
"We enter our second day of strike action today buoyed by the countless gestures of support from readers, MPs, fellow journalists and trade unionists, councillors and more. It was good to meet many people on our socially distanced picket line and see the reaction across social media.
"The public share our concerns about the damage to professional journalism. They also expressed their outrage over working journalists paid close to the minimum wage not receiving their full salaries for months, and the company's targeted redundancy. The company yesterday agreed to our request for further discussions via Zoom while the picketing took place. Regrettably.
"We have a simple request for the company – we want fair restructuring and consultation, and we want them to allow journalists in the editorial department to have control and oversight of editorial content, as is standard throughout the industry.
"We remain united and determined in our fight and we will continue to reach out to the company to resolve the dispute."
Sian Jones, NUJ president, said:
"The whole union is behind our local newspaper journalists taking strike action for a second day today. They are striking for fair pay, professional editorial standards and against compulsory redundancies.
"These journalists are paid barely above the minimum wage and have had to take on second jobs during the coronavirus crisis to ensure they can pay their bills. Bullivant Media directors need to answer this challenge and work with the NUJ to resolve this dispute to save their own reputations and the local newspapers so many communities value."
Chris Morley, NUJ Northern and Midlands senior organiser, said:
"Our members at Bullivant Media conducted themselves magnificently yesterday for what was for all of them their first-ever day of strike action. The strike was rock solid and observed by the whole chapel who proved themselves to be extremely resilient on the picket line – holding firm in the face of torrential rain and wind from Storm Francis.
"This fact alone should tell management that they have lost the trust of 100 per cent of their journalistic staff and need to think quickly and seriously about how they can meet the chapel's very reasonable demands to ensure that the forced redundancy of one member of the chapel is rescinded and that journalists retain editorial control over the content produced from Bullivant Media titles on a routine basis.
"With the outpouring of solidarity and support from fellow journalists and trade unionists from around the UK, Ireland and, indeed, the world, our members striking at Bullivant Media know they are not alone and are sustained in their stand to defend quality journalism.
"Our members naturally want the titles they work for to survive and prosper but it can't be at the expense of journalistic reputation and integrity and they will continue to fight for this and against the poor treatment of colleagues.
"The NUJ has been willing to conduct exhaustive talks through ACAS and directly with management to find solutions but the company has proved inflexible and unable to provide credible guarantees to move forward. We remain open to discussion and finding a constructive way forward ahead of further strike action planned for next week."
The NUJ chapel at Bullivant Media includes all 18 members of the editorial team and the company runs weekly free newspapers and websites with titles including the Coventry Observer, Leamington Observer, Rugby Observer, Stratford Observer, Solihull Observer, Redditch Standard, Bromsgrove Standard, Worcester Observer and Evesham Observer.