On the anniversary of Martin O'Hagan's death, the NUJ renews its call for an international investigation
The Sunday World investigative journalist was killed by a paramilitary gang in Lurgan on September 28, 2001.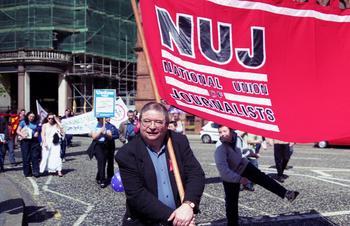 On the anniversary of his death, the NUJ has expressed "exasperation and grave concern" at the failure of the UK government to respond to calls from the union, international agencies and public figures for an independent investigation into the murder of Martin and the subsequent failure of the Police Service of Northern Ireland to secure convictions for the killing.
This year's anniversary takes place against the backdrop of the Northern Ireland Troubles (Legacy and Reconciliation Act 2023) which limits criminal prosecutions arising from the Troubles and instead seeks to "promote reconciliation by establishing an Independent Commission for Reconciliation and Information Recovery, limiting criminal investigations, legal proceedings, inquests and police complaints, extending the prisoner release scheme in the Northern Ireland (Sentences) Act 1998, and providing for experiences to be recorded and preserved and for events to be studied and memorialised, and to provide for the validity of interim custody orders".
Séamus Dooley, NUJ assistant general secretary, said:
"Martin O'Hagan was killed by a loyalist paramilitary group because of his work as an investigative journalist, exposing criminality and the accumulation of wealth through drug dealing. There is a strong belief that those who ordered his death are protected because of collusion with individuals within the security forces. The cause of reconciliation will not be served by the ongoing silence in the face of international demands for a fully independent inquiry into his killing.

"We are exasperated and gravely concerned at the failure to investigate the murder of a working journalist. It is abundantly clear that only an international investigation free from suspicion of links with the political or security establishment in any part of the UK will address the widespread concern at the murder of Martin and the litany of failure to apprehend and procedure his killers.

"The work of reconciliation cannot be achieved when murders are simply set aside to be 'memorialised' rather than investigated. The legacy which Martin sought to expose was criminality across the political divide, the abuse of influence in local communities by self-appointed gang leaders, many of whom wreaked havoc by trading in drugs.

"The Irish government has a role to play in seeking an international investigation into the murder of Martin O'Hagan and the NUJ is calling on Michéal Martin, Tánaiste and Minister for Foreign Affairs and Defence, to lobby for such an investigation.

"The Irish government, along with political parties in Northern Ireland, opposed the so-called Legacies Act. Support for an investigation into the murder of Martin O'Hagan is consistent with that policy. We will never accept that the O'Hagan file is closed."
Belfast and District branch this week marked the anniversary of Martin's killing at its monthly meeting. Martin was secretary of the branch at the time of his murder and a long-time union activist. Picture Kevin Cooper