NUJ Branch May 2020
Update from Michelle Stanistreet on how the union is supporting members; NUJ survey reveals hardship caused by the pandemic; how to be rep from the boxroom.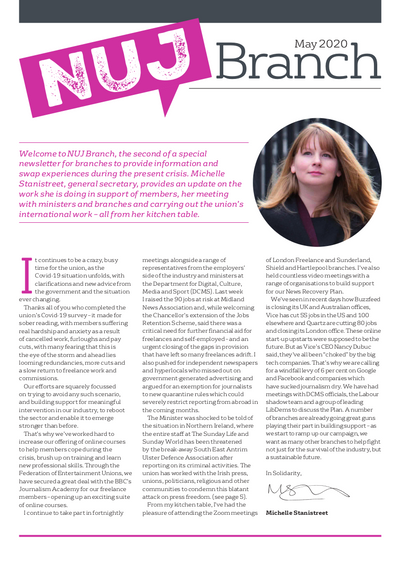 In this edition:
Michelle Stanistreet, general secretary, provides an update on the work she is doing in support of members, her meeting with ministers and branches and carrying out the union's international work – all from her kitchen table.
London freelances get together.
NUJ survey shows growing hardship.
Campaign: Sports reporter James Roberts, currently furloughed, looks at how the Oxford Mail has covered Covid-19.
Campaign: Terrorist threat condemned.
Advice sessions: Repping from the box room.
Training: Rachel Howells, project manager of NUJ Training Wales, describes adapting it training programme to digital only as a rollercoaster.
Download the resource