Local MP replaces newspaper column with solidarity message
Matt Western MP writes a fortnightly column for the Leamington Observer, this week he sent in a message of support for the strike.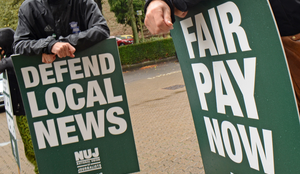 Warwick and Leamington MP Matt Western is backing a strike by local journalists.
NUJ members working for Bullivant Media Limited are currently striking in response to the company's redundancy plans, new working practices, and after months of journalists being underpaid.
Matt Western writes a fortnightly column for the Leamington Observer, but the company also runs other weekly free newspapers and websites with titles including the Coventry Observer, Rugby Observer, Stratford Observer, Solihull Observer, Redditch Standard, Bromsgrove Standard, Worcester Observer and Evesham Observer.
Instead of writing his column this week, Matt Western MP contacted the journalists to support their strike. He said:
"In place of my normal column, I'm writing this message of support for all those on strike at the Leamington Observer this week.
"Staff have only been receiving part of their pay over the last few months, which is unacceptable. There are also plans for redundancies and non-editorial staff have been asked to take over editorial functions, which risks the integrity of the paper.
"It is vital to our democracy that we have a thriving local press. Therefore, I support the strike actions being taken.
"I urge Bullivant Media, who own Leamington Observer and a number of sister publications, to resolve this dispute with their employees in a fair way as soon as possible."
The NUJ chapel at Bullivant Media Limited was formed earlier this year and includes all 18 members of the editorial team.
The Bullivant Media NUJ chapel said:
"Strike action is a last resort and we continue to invite the company to respond to our reasonable demands.
"All we are asking for is that journalists are paid what they are owed in future, and staff should be properly consulted on the restructuring proposals. We also want the company to agree to avoid compulsory redundancies."
The chapel voted unanimously in favour of industrial action, they are on strike today and plan to strike again on Tuesday 1 and Wednesday 2 September.