Guidance for workplace reps on employment status
When is a casual not a casual?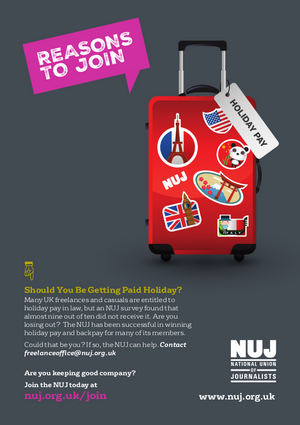 Despite having no legal meaning, the term has been used in journalism for generations – but increasingly hides a multitude of sins regarding employment status that mothers and fathers of chapels (M/FoCs) end up having to deal with.
The biggest of these is whether 'casuals' are genuinely freelance or whether they are entitled to employment rights and protection, including paid holiday.
M/FoCs may be asked for advice on employment rights, especially if someone's hours are reduced or work comes to an end (for whatever reason).
And, in the UK, those rights depend on someone's employment status – and the law recognises three categories: employee, worker and self-employed.
The NUJ has members who are each of these – depending on how they work – and many have found the only way to find out has been to go to an employment tribunal, supported by the union. The results have included large backdated payments.
The 'gig economy' has also seen a spread of false self-employment/freelancing and the undermining of rights at work, highlighted by a string of recent employment tribunal cases, so being able to advise members is even more important than ever.
In the UK, employees and workers are entitled to paid holiday of 5.6 weeks a year, equivalent to 28 days for someone on a five-day week but NUJ research in 2019 discovered that 88 per cent of freelances did not get paid holiday, as organisations try to rely on labelling them as 'casuals' or issuing standard contracts that label people as self-employed or independent contractors.
And, paid holiday is the greatest loss when that happens.
Download the resource