Fair Deal for Freelances
The NUJ has launched a major campaign to fight for a better deal for freelances.

Covid-19 laid bare the precarious position of a major section of the UK's employed sector, particularly in the media where a third of workers are freelance.
Chancellor Rishi Sunak initially rode to the rescue with a Covid-19 job support scheme which succeeded in completely leaving out the self-employed and, after intense lobbying from trade unions, followed up with the Self-Employment Income Support Scheme, but many freelances fell through the gaps in both packages. The NUJ, TUC and other unions have pleaded with the Chancellor to put things right.
Many of the self-employed are vulnerable to employers who place them on unsuitable employment terms. They pay their taxes, but have no right to holidays, sick, parental or pregnancy leave.
The government-commissioned Taylor Review of Modern Working Practices (July 2017) explored the tax and employment rights of freelances, but its recommendations have been largely ignored so the NUJ has urged the government to align the employment status framework with the tax status framework.
The severe hardship caused by Covid-19 for the self-employed means this problem must now be addressed. The creative industry is a major growth sector which is worth more than £111bn to the UK economy, so why is this group of working people so badly treated and bereft of the many rights most employees take for granted?
That is the reason the union has launched its #FairDeal4Freelances campaign to seek redress for those missing out on Covid-19 aid and to fight for a radical reform of our rights to ensure job protection and benefits are not dependent on employment status.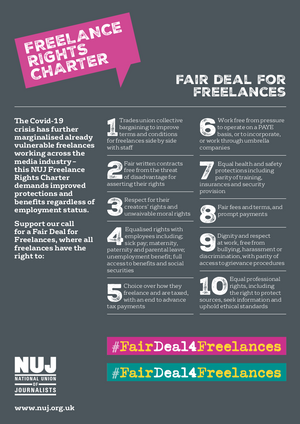 #FairDeal4Freelances includes a charter of freelance rights that sets out the benefits the self-employed should enjoy. It calls for the right to organise in a trade union, to have a written contract with fair terms and conditions, prompt payment and equal treatment at work in terms of health and safety.
Freelances should get holiday pay, parental leave and allowances and a retirement pension. They should have the right to resist companies forcing them on to PAYE, to incorporate as a limited company, or work under umbrella companies.
The campaign will ask employers, employer organisations, industry bodies, politicians and individual supporters to sign up to its aims.
Pamela Morton, NUJ national freelance officer, said:
"For too long the self-employed have been second class citizens in the world of work. We're only asking for a fair deal."