Assange charges must be dropped
On the eve of the US appeal against the dismissal of its application to extradite Julian Assange, the NUJ and the International Federation of Journalists have reiterated their demand that the charges be dropped and Assange released.
Michelle Stanistreet, NUJ general secretary, said:
"The longer this case has dragged on the more issues of concern have been raised. Seeking to prosecute Julian Assange for cultivating a source and encouraging that source to reveal further wrongdoing is an attack on the very process of journalism. The longer this attempted prosecution is pursued, the greater will be the damage to investigative reporting."
Anthony Bellanger, IFJ general secretary said:
"The allegations that swirl around this case beggar belief. The US did not dispute in court accounts of CIA bugging of client/lawyer meetings. Since then, credible accounts of plans to assassinate or kidnap Assange have emerged.
"Devices have been illegally cloned; there are even suggestions of covert attempts to take the DNA samples from babies. Due judicial process is impossible against such a backdrop – the appeal should be thrown out."
Media unions around the world oppose the criminalisation of journalistic process that is at the heart of the attempt to extradite Julian Assange – highlighted in an advert placed in The Times (pictured) and paid for by the Don't Extradite Assange Campaign.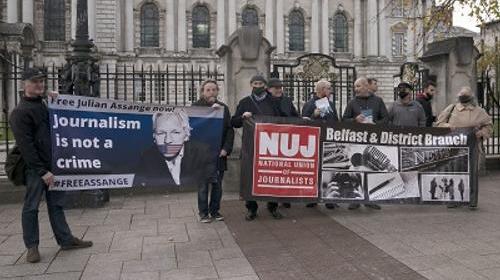 The Belfast and District NUJ at the Free Julian Assange support event on Saturday 23 October outside Belfast City Hall, one of 20 similar events across the island of Ireland. Nobel laureate Mairead Corrigan spoke at the event.