World Mental Health Day 2023
The NUJ's Disabled Members' Council, Equality Council and Health & Safety Committee send a message of support and solidarity to our members on World Mental Health Day.
Our industry continues to experience instability through restructuring and redundancies, resulting in inevitable stress for those affected by job insecurity an industrial action. Especially during a cost of living crisis, life can feel increasingly precarious.
As a union we are here to support our members. You have rights at work under health and safety legislation, employment law and the Equality Act to be protected from workplace stress and to receive support if you are experiencing mental distress.
If you are in financial hardship there are sources of help including NUJ Extra and the Rory Peck Trust grants and there are many ways the union and expert organisations can help, plus advice and guidance for reps dealing with menral health in the workplace.
Resources
NUJ extra is the union's welfare charity, helping members and their dependents who have fallen on hard times. Every year the charity has helped people who, because of sickness, accident or other unforeseen circumstance, need short-term financial assistance.
NUJ mental health toolkit: with practical action reps can take in workplaces and networks, to implement policies that make workplaces fairer.
Journalists and photographers/videographers covering wars and disasters are exposed to distressing and horrific scenes. But it isn't just in conflict zones that media workers witness frightening images or deal with people experiencing traumatic events. The NUJ's post traumatic stress disorder page can help.
The Headlines Network has released new resources on burnout. Headlines Network is an organisation set up to promote more open conversations about mental health in the media industry. Run by journalists Hannah Storm and John Crowley, we work with experts in mental health and leadership to provide tips, training and spaces to talk.
The NCTJ has a free e-learning resource on safety and resilience.
Acas recently launched new guidance on reasonable adjustments for mental health at work, and we have a brand-new podcast episode on the subject.
What are reasonable adjustments for mental health?
Legal considerations.
Supporting health and wellbeing at work.
Acas also has a reasonable adjustments for mental health toolkit with further useful assets and resources to help you promote our new guidance and research.
Health and Safety Executive: advice for employees with mental health conditions. It also has some useful links to combat work-related stress and to promote good mental health at work:
The NUJ's Journalists' Safety Toolkit has loads of guidance and information on topics including cybersecurity, looking after your mental health and workplace safety.
Go the NUJ on YouTube to: view the union's mental health conference
"Four in five journalists have experienced threats and violence at work." Home Office and DCMS survey 2021. "More than half of National Union of Journalists' members experienced online abuse in the past year, with 55 per cent saying it had affected their wellbeing and mental health." NUJ members' survey 2020. The union has launched a video where members discuss the abuse and threats they have received, to raise awareness of the need for greater protection.
NUJ mental health podcast by Caroline Holmes.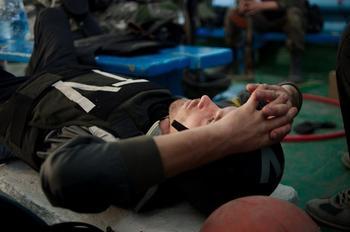 The Rory Peck Trust has funds to support four to five more NUJ freelance members with therapy grants before year end. The RPT Therapy Fund is open to freelance members whose mental health has been affected as a result of their work as journalists. One beneficiary of the fund said: "Considering my existing mental health conditions, if it wasn't for this grant giving me access to my therapist, I would not have been able to cope! I'm so grateful to the Rory Peck Trust, for giving me this priceless support. I owe them my sanity!" The Crisis Fund provides grants to freelance NUJ members in need of urgent financial assistance, to enable them to continue their valuable work.
Mental health foundation: If you or someone you know is struggling with their mental health, you are not alone, and there are places you can go to get help.
Today is also World Menopause Day
Acas has advice and guidance for employers and employees covering a range of best practice and a podcast with Helen Tomlinson, government menopause champion and Kate Nowicki, Acas director of dispute resolution: Inclusive workplaces: supporting women through menopause
Menopause at work: TUC toolkit