Women journalists imprisoned during protests in Ankara
Unions condemn the violence inflicted on colleagues and call for their immediate release.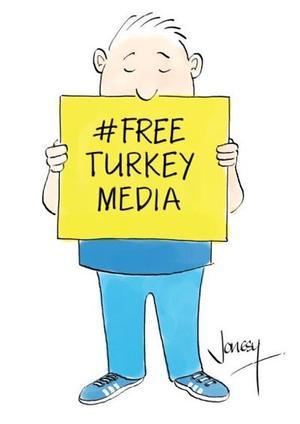 Three women journalists were detained and another was beaten by police on 5 January during a protest in the Turkish capital Ankara against the disappearance of a Kurdish student a year ago.
The International Federation of Journalists (IFJ), the European Federation of Journalists (EFJ) and their affiliate, the Journalists' Union of Turkey (TGS) condemned the violence and demanded the immediate release of the imprisoned colleagues.
Habibe Eren and Oznur Deger, journalists from feminist news agency Jin News, and freelance journalist Eylul Deniz Yasar, were among the 18 women detained while covering the rally that marked the first anniversary of 22-year-old Kurdish student Gülistan Doku's disappearance.
Some media reports say the women may have been tortured by police. There is no further information regarding the location of their detention for the moment.
In the middle of the protests, Mezopotamya Agency (MA) reporter Mehmet Günhan was beaten by security forces who also confiscated his press card while he was covering the demonstration in front of the City Hall in the central district of Çankaya.
Jin News agency, whose reports have focused on women's rights and human rights abuses by security forces, has also been targeted by the Turkish government, which accuses the all-women staff of terrorist propaganda. Some of their reports have also been banned and their webpage has been blocked several times inside the country.
Turkish journalists are often subject to arbitrary detention. Currently, TGS has documented 70 journalists and media workers imprisoned.
On its Twitter account, TGS published a statement on 5 January that said:
"Jin News Reporters Habibe Eren and Öznur Değer, who wanted to watch the action of the Ankara Women's Platform for Gülistan Doku, were battered and detained by the police today. We condemn this attitude towards journalists. We want our colleagues to be released immediately."
Ankara Kadın Platformu'nun Gülistan Doku için yaptığı eylemi izlemek isteyen Jinnews Muhabirleri Habibe Eren ve Öznur Değer, bugün polis tarafından darp edilerek gözaltına alındı.

Gazetecilere yönelik bu tavrı kınıyor,
meslektaşlarımızın derhal serbest bırakılmasını istiyoruz. pic.twitter.com/B39gxjw3xH

— TGS Ankara Şubesi (@TGSAnkaraSubesi) January 5, 2021
Ricardo Gutiérrez, EFJ general secretary, said:
"Women journalists are increasingly exposed to acts of violence in Europe. It is important for news organizations to implement gender sensitive policies, guidelines and training. These policies should include physical safety support, psychological support, as well as digital security training."
Anthony Bellanger, IFJ general secretary, said:
"Arbitrary detentions, torture and abuse against journalists have become an every-day practice in Turkey, which is Europe's biggest jailer of journalists. We demand the immediate release of all our colleagues still in jail and a guarantee that they can work free of fear. We call on President Erdogan to immediately stop his smear campaign against the press."