Tribute to Dave Rotchelle (1952-2020)
Dave Rotchelle, pub rock drummer, photographer and NUJ freelance stalwart, died last month.
by Phil Sutcliffe
"Remain calm…" would have been Dave's wise counsel to anyone inclined to a spot of garment-rending on hearing the terrible news of his death.
He said exactly that out loud when chairing a myriad assorted NUJ meetings and it usually worked a treat. Who could resist or insist when they found their incipient rant juxtaposed to his Buddhic tranquillity, benign smile and frankly contrahistrionic headgear?
He and his battered fedora – or sometimes sunhat – purveyed a mild, irrefutable authority via the sort of self-mockery that puts everyone at their ease.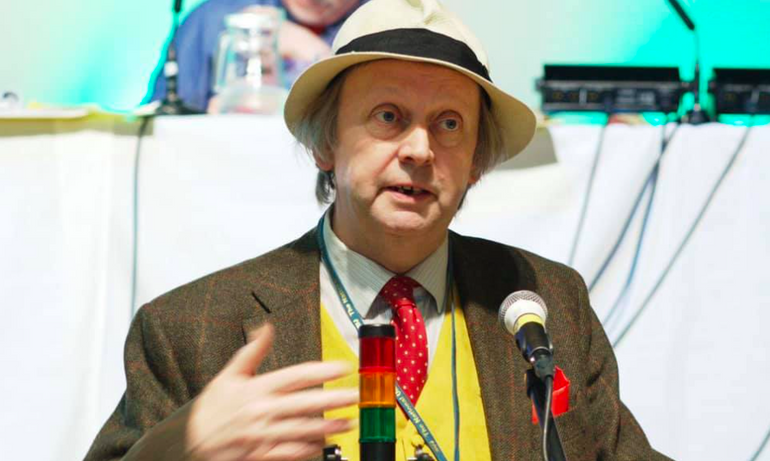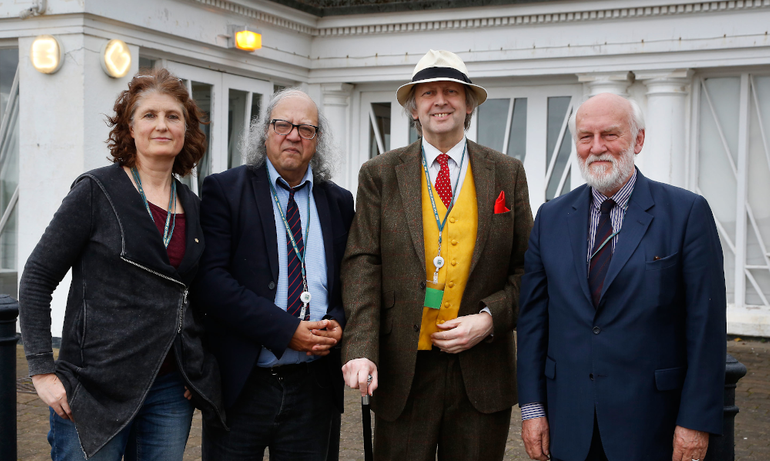 Partly, I think, that came from his pre-NUJ years in showbiz. Lit up by his enduring '60s love of Billy Fury, Billie J. Kramer, The Who (Moon!) and Joe Meek productions, he schlepped UK's length and breadth as drummer with some of 70s pub rock's finest bontemps-rolling outfits: The Count Bishops, The Rockets and, most almost-famously, The Pleasers – help yourself to their marvellously-mohaired prime on YouTube (on Cheggers Plays Pop!), but you may also savour an older Dave still on the one on a rehearsal tape from their 2010 comeback; they played the 100 Club, the Marquee and… Japan!.
Here's a thing: Dave really did own and sometimes wear a gold lamé suit… not pictured, sadly, so I leave you with that thought and revert to his union days.
He wandered into professional photography via a largely unreported period – he did remain enigmatic in many ways, drawing a showbizzy veil over his age for instance. All I know of that interim is a summer job at Buckingham Palace. Which may lend some documentary possibilities to his favourite one-liner about how you should never be a name-dropper: "The Queen herself told me that".
The steer came from carefully watching pros shoot The Pleasers and thinking "I could do that if this rock'n'roll malarkey falls through". And so for many years he earned a solid living from newspapers, magazines and the usual pick'n'mix of one-off commissions – even a few for his heroes at Chelsea FC.
He joined the NUJ and LFB in 1998 and, propelled by some inner wellspring of goodwill, so engaged his fellow members that we elected him to everything in sight. Soon he discovered that he loved chairing the branch… and the branch loved being chaired by Dave, he was such an inspiring, tone-setting examplar of grace and decency – while keeping the best of order, naturally. He was also on the National Executive and the Freelance Industrial Council.
He was made a Member Of Honour (one of only 300-odd in the NUJ's now 113-year history).
However, that period saw the beginning of his health's horrible decline. Over a very few year, diabetes, the chief culprit, cruelly robbed this drummer/photographer of strength in his legs, dexterity in his hands and clarity in his eyesight.
But he didn't surrender. With extraordinary stoicism, when diabetes side effects led to a lower-left-leg amputation, he worked like an SAS recruit in the rehab gym to learn how to use his prosthesis and proved such an encouraging presence to his fellow amputees that the doctors asked him back several times to talk with later groups about how to cope.
As to future work, he told me he might spin another creative livelihood from doing what he'd always done for his beloved nieces and nephews – he wrote and recorded children's songs and developed ideas for radio shows.
In the end though, the slow tragedy of his illness did grind him down. Despite the best efforts of his sister Trish and brother-in-law John, friends, and professional carers, incapacity and pain broke his spirit. The enforced isolation of the Covid pandemic perhaps put the tin lid on it, as he would say. Convivial togetherness had been his lifelong meat and drink…
Admitted to the Royal Free Hospital, Hampstead, one more time in October, he died of diabetes, pneumonia and sepsis.
Feel free to add to the London Freelance Branch tributes by emailing [email protected], but this is a final word for now from Dave's friend of 40 years-plus, The Pleasers' singer/bass player, Bo Benham:
"Dave Rotchelle is one of the most straight-talking, intelligent, fair-minded, level-headed, giving, secretive, talkative and kindest individuals you could ever wish to meet."
Michelle Stanistreet, general secretary, also paid tribute, saying:
"Dave was among the kindest, most charming, and dedicated activists whose industry benefited the NUJ. His idiosyncratic wardrobe lent a dash of colour to our delegate meetings and he brought a sense of fun to proceedings that often diffused moments when debates were becoming polarised. He will be missed enormously."