Remembering Veronica Guerin
NUJ members marked the anniversary of the murder of Sunday Independent journalist and member Veronica Guerin.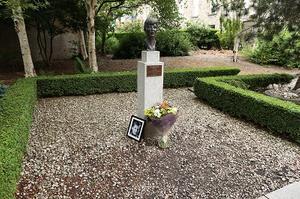 A wreath was laid on behalf of the NUJ by Veronica Guerin's former Sunday Independent colleague Martin Fitzpatrick, who is chair of the union's Dublin (Newspapers) branch and Mary Curtin who is an NUJ member of honour.
NUJ representatives included Cearbhaill O'Siochain from the NUJ's Irish executive council, Fran McNulty from the union's national executive council and representing NUJ president Pierre Vicary, and Séamus Dooley, NUJ Irish secretary.
Séamus said:
"Today we gather to salute the spirit of Veronica, to remember her and to stand in solidarity with her family, colleagues and friends who continue to mourn her loss. Veronica's death was an assault on media freedom and as journalists we honour her by standing up for the right of journalists everywhere to do their job.

"Because of Covid 19 restrictions we could only organise a symbolic event but we felt it important that the NUJ should mark this anniversary.

"In doing so we remember Veronica's mother late mother Bernie, who was so generous with her time and who honoured her daughter's legacy. Our thoughts are with Veronica's family for whom this is an especially poignant anniversary.

"Veronica was a brave freelance journalist who was devoted to her work at the Sunday Independent. Her enthusiasm, her commitment and her courage remain an inspiration."
Watch the RTE archive footage.