#KeepBBCLocalRadioLocal
The NUJ is campaigning against the BBC's plans to cut local radio.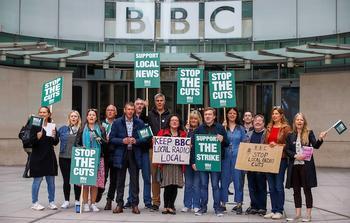 BBC journalists have been involved a long dispute, including strike action, with the corporation over its plans to cut local radio content by almost a half and shift local journalism online.
As the BBC has continued to drive forward changes, many popular presenters lost their jobs or left and scores more staff faced the threat of redundancy. The plans meant huge parts England would share programmes during the afternoon and weekends, however the union has now agreed a deal on jobs, income protection, and workload, along with new concessions on recorded radio news bulletins and shared programmes.
Paul Siegert, NUJ broadcasting organiser, said:
"While this deal answers the most pressing industrial concerns of those working at BBC Local, the NUJ will continue to campaign vigorously for quality, truly local radio programming and live news bulletins which has been hit hard by this restructure. Ofcom must enforce the protection of local content, so cherished by often hard to reach and vulnerable listeners. Going forwards, BBC funding must be deployed to provide for the many varied and diverse audiences, with radio embedded in local communities." Find out more about the deal
The union has been supported by MPs and councillors of all parties, charities, sporting teams and community groups who say the BBC's local radio service is vital for democracy, binding communities together and providing vital relevant and genuinely local news.
Michelle Stanistreet, NUJ general secretary, said during the dispute:
"The BBC needs to sit up and take notice of the strong feeling of BBC staff, along with politicians and community groups across the country. If they thought this dispute was waning, they are sadly mistaken. This is a strong result in an important dispute in support of jobs, but also importantly in support of the BBC's role in providing a service to all local communities. We now have a further mandate for strike action. But of course, we would prefer to reach a negotiated settlement with the BBC and resolve to continue the present talks with management."
A report by the cross-party Culture, Media and Sport Committee said:
"We continue to be concerned about the impact of the BBC's Digital First strategy on linear TV and radio audiences. Sharing content across large areas risks undermining the sense of localness that has, until now, made BBC local radio distinct. We are similarly concerned that the direction of travel in linear TV provision could also diminish coverage for local audiences. While we recognise that the latest license fee settlement is difficult for the BBC, its changes to local radio and local TV provision are evidence that the drive to prioritise digital strategies can often come at the expense of local audiences."
The strikes took place in July and June 2023 and to coincide with Budget Day in March. See all the #KeepBBCLocalRadioLocal stories and picket pictures.
The union held a Parliamentary lobby and event on Wednesday 7 June in the House of Commons where more than 70 concerned MPs and peers of all parties came to meet reps, officials and Michelle Stanistreet, NUJ general secretary. It is increasingly important to use political pressure on Tim Davie, the BBC's director general, to change these plans. The NUJ supports digital expansion of local news, but this should not be at the expense of linear local radio and its 5.7m loyal listeners.
Michelle Stanistreet, NUJ general secretary, said:
"Tim Davie has had an opportunity to take on board the widespread concerns and criticism of these damaging and unnecessary cuts to BBC Local. We're calling on the BBC to pause and engage with staff and audiences in a meaningful way. BBC Local services are clearly treasured by listeners the length and breadth of the country. Local radio in particular plays a role that other media has largely abandoned, as local papers have folded in towns, villages and cities across the country in the past decade. Now that licence fee payers are aware of the cuts to shows and presenters that they love and value, they are speaking out. The BBC should pause and engage with listeners and politicians across the political spectrum who are all calling for a different approach - one which treats journalists and presenters with dignity and respect and seeks to preserve local public service broadcasting."
Paul Siegert, NUJ national broadcasting organiser, said:
"Many of our members who have had to reapply for their jobs and face redundancy have had a very bruising and upsetting time. They feel this has been very badly managed by senior managers. This fight is about the heart of the BBC's public service remit. Local news is vital not just so people can be informed to be able to participate in local democracy, it binds communities together and for the many who will not be able to access local news digitally they will lose the familiar presenters who have become their friends. Local radio is not expensive in terms of the BBC's budget, and we believe that the BBC could easily solve this dispute.
"Once local radio stops being local then it is the beginning of the end and BBC managers don't have the right to destroy an institution that has existed for over 50 years."
On Thursday 22 June, Sir Mike Penning, Conservative MP for Hemel Hempstead, called a backbench debate proposing the following motion, which was unopposed: "That this House calls on the BBC to reconsider its decision to reduce local news output from local radio journalism which will have a negative impact on communities across the UK, reduce access to local news, information and entertainment and silence local voices." MPs from all parties queued up to support their local radio station, to call on the BBC to change it plans and for Ofcom, the broadcasting watchdog, to "do its job" and enforce the BBC's remit to licence fee payers.
Lord Hall, the former BBC director general, says the BBC should not be trimming local content on local radio - that is what makes it so special, he said.
Catch up on solidarity messages and picket line photos from the strikes.
The BBC closed the local television news programmes in Oxford and Cambridge in December 2022. Blue day for Cambridge and Oxford local TV
#KeepBBCLocalRadioLocal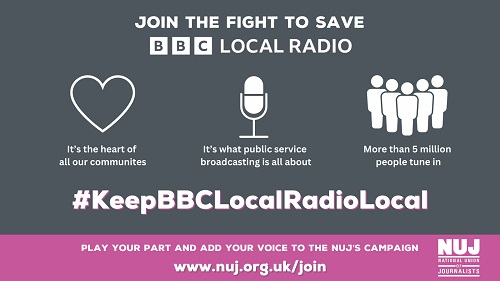 MPs from all parties spoke out in favour of local radio and against the proposed cuts in a debate called by Emma Hardy MP in the House of Commons. They said BBC local radio was "a lifeline for news and education, mitigating against rural isolation and supporting people's rural mental health", a "great incubator for new talent" and "one of the crown jewels of our public sector broadcaster. Watch the debate or read it in Hansard.
#KeepBBCLocalRadioLocal. "It's not good for democracy, it's not good for our city," Sadiq Khan, London mayor.
What you can do
Write to your MP and local politicians asking them to call on Tim Davie, director general, to stop the cuts to local radio. We can provide briefings for your local station - contact

[email protected]

Ask your MP to sign the early day motion 550 BBC local radio programming
Invite a BBC local radio rep to your branch meeting.
Publicise what is happening to your local station. Get local community groups, charities and faith groups involved in the campaign.
We can win this campaign.
A backbench debate on the cuts to local radio took place in the House of Commons on Thursday 8 December. House of Commons library briefing on The future of BBC local radio.
Materials
Videos
BBC radio briefing
The BBC's plans for local radio will mean most output in the afternoons and evenings will now be shared. It means local radio outputwill be cut by almost half and areas with nothing in common will be share programmes. Popular presenters have lost their jobs.
Overall, staffing on local radio in England is expected to reduce by around 48 posts. The NUJ believes this will seriously diminish a service that is highly valued by listeners and underpins local democracy. BBC Local Radio provides a vital service of news, information, and companionship for its communities.
News bulletins on the hour will be recorded for many stations, meaning they may miss developments of live news stories and sports events.
Local radio, connecting communities and providing local news, sport, entertainment and religious services, has been the bedrock of the BBC's role as a public service broadcaster. It connects listeners to their elected representatives and holds them to account.
The BBC boasted how local radio "delivered real value by keeping people safe and informed through challenging times such as Storm Arwen, where audiences in the Northeast were left without power for weeks" and during the pandemic when many people were isolated in their homes. Its Make a Difference campaign brought together volunteers to help neighbours during the Covid-19 emergency. So why is it now rowing back on this vital service?
Of the total licence fee, just £7.60 is spent on local radio.
Latest figures show that 5.7 million people listen to local radio.
The former voice of BBC Radio Suffolk's afternoons, Lesley Dolphin, wrote to Tim Davie, BBC director general, saying: "BBC managers are proud that they have journalists on the ground in every county, but local radio is so much more than a news service – it is embedded in local communities and gives people a sense of place, a chance to celebrate heritage and art. It will be impossible to do that if programmes are shared across a wider area."
The urgent question debated in the House of Commons on Tuesday 1 November showed huge cross-party support for BBC local radio as "a lifeline for news and education, mitigating against rural isolation and supporting people's rural mental health", as a "great incubator for new talent" and "one of the crown jewels of our public sector broadcaster".
The UK has seen a steady decline of local newspaper titles, the Press Gazette reported that at least 265 titles have gone since 2005.
The BBC says it is pursuing a digital-first policy, chasing younger viewers. The NUJ believes digital services can be improved by working differently and using technological solutions. For example, digital news bulletins are already provided seven days per week on smart speakers and via BBC Sounds. This summer, Sounds launched a new "local rail", signposting the digital audience to other audio content. Every BBC region already provides a live "local" page on weekdays – this is already available on the BBC News regional index pages, which are poorly promoted. The BBC could be using some of its vast marketing budget to promote such initiatives.
All BBC local radio staff were told their job is at risk and many have had to reapply for their job. NUJ members are sad and angry – they know just how valued they are to their listeners, if not to the BBC's panjandrums.
It must be remembered the government is to blame for freezing the BBC's TV licence for two years at a time when inflation was soaring. The corporation has lost almost a third of its funding in real terms over the past decade.
What the listeners say
" Love local radio. Never has it been more important. Thank you everyone at BBC Radio Newcastle for keeping us informed and entertained every single day. " South Shields Labour MP Emma Lewell-Buck.
"Thanks for getting me through this. I'm very isolated and the radio provides me with another human voice." Ann in Morpeth.
"Just want to say a big thank you to you for keeping us entertained and informed through lockdown and even now. I've never listened to a radio station that has kept their listeners entertained and informed like Radio Newcastle has during everything that has happened in the world " Nikki.
Just a little text to let you know how I love my Sunday evenings with you and your beautiful show. I honestly look forward to it every weekend thanks Mr P. Debs.