Young Journalists receive NUJ/The Orwell Society awards
The winners and runners-up of The Orwell Society/NUJ Young Journalist's Award 2023 received their awards at Sutton Courtenay, where George Orwell, journalist, author of books including Nineteen Eighty-Four, Animal Farm and Down and Out in Paris and London and famous for his six rules for writing, is buried.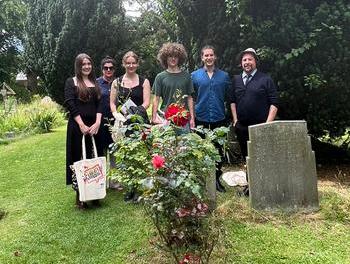 The Orwell Society offers awards totalling £4,000 for young journalists and they receive a free NUJ student membership. The winners were also presented with Orwell: The New Life by DJ Taylor, by Dr Jaron Murphy, chair of the judging panel.
The winner of the column category was Gwenno Robinson, undergraduate of Pembroke College, University of Cambridge, and the runner-up was Kathryn Wheeler, features editor, Happiful. The winner of the review category was Joshua Korber Hoffman, post-graduate of Corpus Christi College, University of Cambridge, and the runner up was Thomas Gilhooly, undergraduate of University of Cambridge.
You can read their awarding-winning articles on The Orwell Society website. Column winner Genno Robinson was interviewed in NUJ Branch
The Orwell Prize for Journalism 2023 was awarded to Gary Younge, whose entry included essays and a podcast on race and inequality in Britain on We Are Unedited and in the New Statesman and The Guardian.
Picture left to right: Kathryn Wheeler, Frances Rafferty NUJ, Gwenno Robinson, Thomas Gilhooly, Joshua Korber Hoffman, Dr Jaron Murphy