NUJ members stand up for Ukraine in Dublin
On 24 March at 4.30pm, Irish members of the National Union of Journalists will join with union members and members of the Ukraine embassy in Ireland in a protest outside the Russian Embassy in Orwell Road, Rathgar, Dublin.
Séamus Dooley, NUJ assistant general secretary, will introduce the President of Congress Kevin Callanan and the Ukraine Ambassador to Ireland Larysa Gerasko.
There will be an opportunity in words and music, to remember those who have died, to protest at the illegal invasion, and to express solidarity with workers in Ukraine and Russia who have suffered as a result of the actions of the Russian government.
In acknowledgement of the role played by those persecuted and killed as they sought to report in words and images, Blathnaid Ni Chofaigh, Dublin broadcasting branch will read Seamus Heaney's poem, From the Republic of Conscience, written for Amnesty International.
Kevin Callinan, ICTU president said:
"We support peace. But it must be a just peace, built on respect for democracy, self-determination, and humanity. That's why Congress is clear that Russian troops are unwelcome in Ukraine, and they must clear out. And our solidarity amounts to more than just words of concern, sympathy, and admiration for the strength and conduct of your struggle.

"That's why we have added our voices to calls for strong and united European and global action against Russia for as long as this illegal invasion continues."
Patricia King, ICTU general secretary, said:
"Ukrainian women, children, and men are living and dying in a horrific war of pain, depravity, and brutality. Those who have been able to leave the shelter of their basements have had to flee from cities and towns laid to ruin by Vladimir Putin's ruthless warmongering. Ukrainians have inspired the world by standing against Putin's invasion of a sovereign country."
The NUJ banner will be carried by Gerry Curran, NEC member and Cearbhaill O'Siochain, Treasurer, Irish Executive Council and Secretary, RTÉ Trade Union Group. Members should assemble at Orwell Road from 4.30pm today.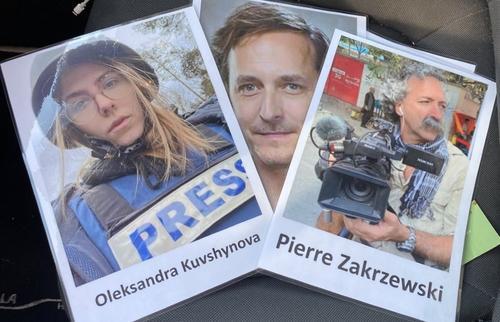 Posters to be carried by NUJ members this afternoon designed by NUJ member Niall Carson.