Media all-party group launched at Stormont
A new Press Freedom and Media Sustainability All-Party Group (APG) has been launched at the Stormont Assembly in Northern Ireland today.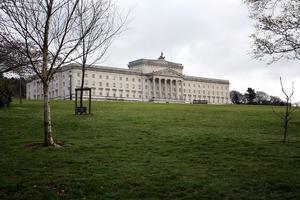 The group has been formed by Members of the Legislative Assembly (MLAs) with support from the National Union of Journalists (NUJ) in the UK and Ireland.
The group's remit will include the threats and harassment targeted at journalists and the severe economic impact of the global health pandemic on the viability and sustainability of local media.
The MLAs elected today as officers of the group include:
Chair - Matthew O'Toole, SDLP MLA
Vice-chair - Mike Nesbitt, UUP MLA
Secretary - Sinead McLaughlin, SDLP MLA
Treasurer - Emma Rogan, SF MLA
Other members of the group include:
Maurice Bradley, DUP MLA
Andrew Muir, Alliance MLA
Stewart Dickson, Alliance MLA
Rachel Woods, Green MLA
Patsy McGlone, SDLP MLA
Pat Catney, SDLP MLA
Gerry Carroll, PBP MLA
Matthew O'Toole, chair of the Press Freedom and Media Sustainability APG, said:
"I am very pleased to be chairing the APG on press freedom and media sustainability. Threats of violence should never be accepted 'as part of the job' of a journalist.
"We are looking forward to working closely with the NUJ to help protect a free press - one of the most fundamental elements of a free society. A free press also means a viable, sustainable local media supporting communities, local economies and local democracy.
"The existing crisis facing media outlets has been hugely exacerbated by the economic impact of the pandemic. This APG will be keen to explore radical ideas to make our local media sustainable."
Seamus Dooley, NUJ assistant general secretary, said:
"We congratulate the MLAs for setting up this group as a welcome and positive initiative, the media in Northern Ireland face a significant range of current challenges and we are more likely to tackle those challenges if we work together with all stakeholders involved.
"We hope the group will work to secure increasing safety and protections for our members at work and adopt the key recommendations in the NUJ's News Recovery Plan that will help to secure a better future for the media industry that continues to serve the public good.
"As a trade union the NUJ is not aligned to any political party and we look forward to positive engagement with all members of the Assembly on an ongoing basis."