Hands Off Our BBC
Why we need to promote & protect the BBC and public service broadcasting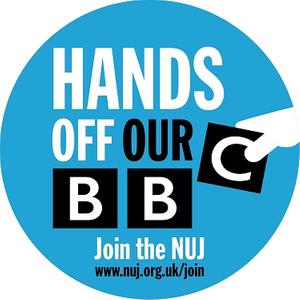 As the BBC celebrates its 100th birthday, it increasingly needs a stable funding model and an end to the relentless cuts if it is to fulfil its remit as a public service broadcaster. The NUJ believes it must remain a universal service, adhering to its core values and free from political interference.
Research from KPMG shows that every £1 of the BBC's direct economic activity generates a total of £2.63 in the economy; and 50 per cent of the BBC's economic impact is outside London, compared to a sector average of 20 per cent.
Licence fee deal
The fee will remain at £159 until 2024 before rising in line with inflation for four years. The plans for the new licence fee settlement cover a period of six years and will take effect from 1 April 2022 until 31 March 2028. The Welsh language broadcaster S4C will receive a similar settlement and is also allocated an extra £7.5 million a year to develop its digital offering. The government said that in light of the huge changes in the broadcasting landscape over the past decade with the arrival of streaming and video on demand, the government will consider whether the licence fee will remain a viable funding model for the BBC.
Tim Davie, BBC director general, said the settlement would affect "frontline output" and, when asked what might be cut, said "everything's on the agenda". The corporation said its income for UK services is already 30 per cent lower in real terms than it was 10 years ago.
Michelle Stanistreet, NUJ general secretary, said:
"The financial challenges are clear – the solution requires public engagement and financial intervention from the government to ensure the BBC's survival as an institution prized and valued all over the world. The Covid-19 crisis has shown more than ever the need for an effective public service broadcaster and for trusted, quality journalism in an era of disinformation and fake news. We cannot allow the BBC to sleepwalk into a death by a thousand cuts, which will inevitably see people switch off because they aren't getting the service they want."
The NUJ says there must be a more transparent process of the determining of the BBC's funding and licence fee deal to prevent the behind-closed doors deals that have bedevilled the determination of the corporation's finances and responsibilities.
Funding reports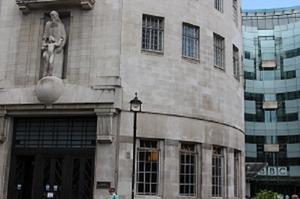 The National Audit Office reported (December 2021) a 22 per cent increase in repeats on BBC 1, due to cuts and Covid and a 12 per cent real-terms reduction in BBC content spending between 2016-17 and 2020-21. The BBC has made annual savings of 1bn with a forecast of £971m to be made in 2022. The NAO found that of the posts cut, 35 per cent had been frontline journalist roles.
An analysis of BBC public funding between 2010 and 2021 shows that in 2020-21 the BBC received 75 per cent of the public funding it received in 2010 in real terms while production costs have risen considerably. Its funding has also been eroded by governments constantly raiding the BBC licence fee pot to pay for such things as the roll out of broadband, the disastrous Local TV initiative and taking on the welfare benefit of free licence fees for the over-75s – at an annual cost of £500m.
Since 2010/11, to the end of the previous financial year, the BBC calculates it has seen a real-term reduction in licence fee revenue of around 31 per cent, largely through the freezing of the licence fee for six years and significant new obligations being placed upon it.
The NAO said cost pressures are heightened by the high level of inflation in the television and film industry and after year-on-year cuts the BBC estimated that 41 per cent of its annual savings would come from cuts to content and the scope of services, and 11 per cent from changes to the scheduling mix. The report said the outcome of the licence fee negotiations could significantly increase the savings it will need to deliver. The BBC spent almost £180 million on making over 1,800 staff redundant.
The BBC has increased the use of third-party funding, but the NAO warned this potentially poses a risk to the long-term value for money that it can realise from its intellectual property as the BBC has traded some of its rights to content.
Cuts to news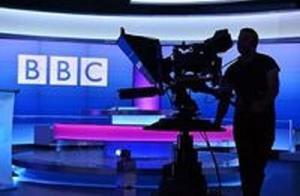 News and current affairs are already suffering as the budgets of flagship programmes such as Newsnight and Panorama have been reduced. This has also led to less coverage of Parliament and the party conferences. The award-winning regional current affairs strand Inside Out -- now rebranded as We Are England – has been changed to a much-reduced format.
Despite the 1830 regional news bulletins achieving some of the highest ratings of any TV programme during 2021, the job losses already sustained are placing a huge strain on the ability of journalists to produce high quality output. Any further cuts to staffing would inevitably lead to cuts in regional output, which would be a huge loss to audiences across the Nations and English Regions.
Similarly, Local Radio in England has sustained huge cuts, with schedules being pared back to four-hour shows. A change in format – made necessary in part because of reduced budgets – often means less in-depth coverage of important local news stories and holding to account of decision makers. Staffing accounts for over 80 per cent of costs in Local Radio, so any further reduction in funding will risk services having to be merged, and fewer journalists covering underserved communities. An ambition to provide 100 digital reporters is now in jeopardy, and it is unlikely that hyper local radio stations, piloted in 2021, will return.
The regional online operation has also suffered from cuts, with the axing of a central "subbing hub", where stories were checked before publication. This function is now done by remaining staff.
The Nations
The Nations of Scotland, Wales and Northern Ireland have endured fewer savings, though job losses have been proportionate to existing staffing levels in those places. Radio, TV and online operations are increasingly being merged into single units, so that entire Nations have far fewer journalists providing bespoke content. While S4C television enjoys a certain amount of protected funding, the same cannot be said of other language services. At BBC Scotland, 75 redundancies were accepted.
What Ofcom says
Ofcom has been the BBC's regulator on its public service (not editorial) remit since 2017. It reported that the total BBC spend on original TV content has been in long-term decline, reducing from £1.6bn in 2010 to £1.2bn in 2019, although the number of hours of content each year has remained relatively stable. It said it was important for the BBC to maintain its commitment to focusing on original UK content for all audiences. This is particularly in the light of the dominance of US-based streaming and subscription video-on-demand services, such as Netflix and Disney.
Ofcom found the BBC to be successful at bringing audiences together in large numbers, for instance through high-quality drama, news, and live events. The latest series of Line of Duty had record ratings; the final episode had an average audience of 16.4 million people. Live events such as the Euros 2020 and entertainment such as Strictly Come Dancing regularly bring viewers together for a shared experience.
BBC facts & stats
In 2020/21, the BBC achieved record figures with an average audience of 489 million adults every week, an increase of over twenty million (+20m) from the previous year. The BBC's audience has more than doubled in the past 10 years. BBC's international news services reached record levels with 456 million adults using them each week (an increase of 18m). This includes audiences for World Service languages, World Service English, World News TV, BBC.com and BBC Media Action.
The World Service's languages division drove the largest share of total BBC growth, up 20m (+7%). The language services now reach 313 million adults weekly. BBC Studios' international channels reached 65 million adults, an increase of 16m.
BBC annual report 2021/2)
The most-used brand in the UK for media.
Used by 90% of UK adults and 80% of young adults on average per week.
Used by an average of five million adults every single minute of the day and night, across TV, radio and online, and by a total of 45 million people across all ages over 24 hours.
Delivered £2.63 of direct economic impact for every £1 spent with 50% of that economic impact outside London, compared to a sector average of 20%.
UK adults spent on average 18:02 hours with the BBC each week, up from 17:45 in 2019/20.
78% of UK adults say the BBC is effective at informing, educating and entertaining people (ineffective, 12%).
The BBC has committed to spending £112 million of its commissioning budget on diverse content with a 20% diverse talent target behind the camera, from April 2021 over three years.
Requests for News on iPlayer were up by more than 85% year-on-year in 2020.
BBC's news coverage was the first port of call for the vast majority of the country during the pandemic. Audiences for the BBC News at Six were the largest in almost 20 years, whilst BBC One's 6.30pm bulletin in Scotland, Wales, Northern Ireland and the English regions continued to be the UK's most-watched news programme.
There are more than 19 million users per week on average of BBC News Online.
There has been record viewing to BBC iPlayer this year, with requests up 28 per cent on the previous year.
Key facts from NAO report:
3.75bn BBC income from licence fee 2020-21.
1bn BBC target for annual savings by 2021-22, increased in 2020 from £800 million.
971m annual savings forecast to be delivered by 2021-22.
12% real-terms reduction in BBC content spending between 2016-17 and 2020-21
22% Increase in the proportion of BBC 1 programming hours that are repeats between 2016-17 and 2020-21, in part due to COVID-19 pandemic.
Key facts from Ofcom report on the BBC 2020-21
Each year over the Charter period the BBC has broadly fulfilled its Mission and Public Purposes. It reaches the majority of the UK population and provides a significant volume of trusted news and current affairs, a wide range of education and learning content, and high-quality, distinctive and creative content for audiences across its mainstream and specialist services. Each year since 2017, audience satisfaction with the BBC has remained relatively high, comparing well with other content providers.
At a time when Covid-19 has reinforced the need for trusted and accurate information, the BBC continued to be the most important news source for audiences. It has remained the most-used source of news across the UK despite the wide range of other sources available. It provided a broad range of educational content to support parents and children when schools were closed.
The BBC currently offers a broader range of genres than any other content provider. Investment in original UK content by the BBC is critical for delivering distinctiveness, particularly in the provision of at-risk genres such as arts, music and comedy, which are less likely to be provided by others, and where the BBC's spend has declined more rapidly than in other genres.
The BBC is taking steps to better serve less-satisfied audiences and to build stronger links with younger audiences.
The BBC has a good record of complying with broadcasting rules intended to ensure that programming is duly impartial. In contrast, when we ask audiences about BBC news, although they rate it highly for trust and accuracy, they consistently rate the BBC less favourably for impartiality.
We welcome the BBC's action to improve audience perceptions of its impartiality. This year the BBC introduced new internal impartiality guidance, training, and rules on external engagement. In addition, in response to the Serota Review of BBC editorial processes, governance and culture, the BBC published an Action Plan on impartiality and editorial standards. We welcome the BBC's commitment to enhance accountability and track progress in delivering each action in the plan.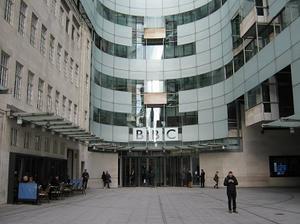 Background
Before the Covid-19 outbreak, the BBC was under constant attack by the government. Ministers boycotted Radio 4's Today programme (and still boycott Newsnight). A source, believed to be adviser Dominic Cummings, was quoted in the Sunday Times in February as saying the BBC was going to be "whacked" and lose its TV licence. A consultation on decriminalising TV licence evasion, which would have cost the BBC between £20m-£50m a year, was opened.
Then the virus arrived and the BBC rose to the challenge. People flocked to the broadcaster for news and advice they could trust. BBC management postponed its planned cuts and redundancies in news and the introduction of licence-fee payments for the over-75s. BBC local radio launched a Make A Difference campaign, which has led to 800,000 listeners helping the vulnerable in their communities. The One Show included health and well-being advice alongside keeping fit and healthy eating tips. The BBC Food website provided collections of recipes especially for older people, and for low-income families.
The corporation offered families forced to school their children from home more BBC Bitesize content and a daily educational programme for different key stages or years. It broadcast religious services. It increased its offering on iPlayer to entertain families stuck in at home. BBC Culture in Quarantine provided a rich offering of online arts, music and theatre. This was public sector broadcasting at its best. But the BBC now faces financial free-fall; the Covid-19 crisis alone had cost it £125m.
All democracies require balanced, impartial news coverage which does not depend on the personal prejudices and foibles of media moguls, commercial pressure to appease shareholders or government interference. A functioning democracy cannot exist without a plural, trusted and vigorous media; the UK's public service broadcasters should provide the bedrock for this and be protected.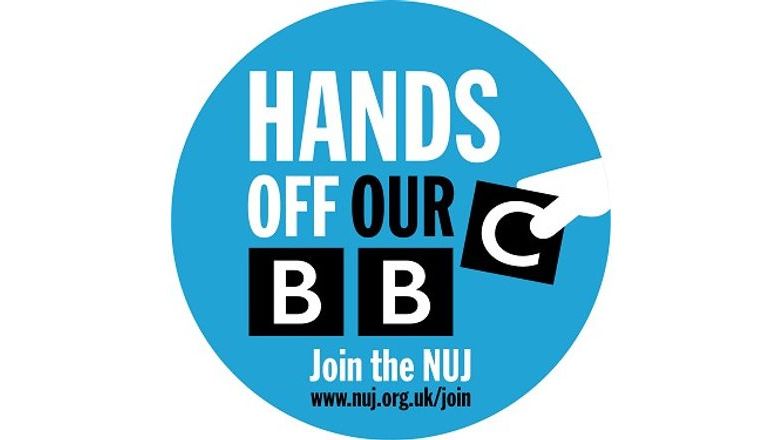 Fact sheet to accompany the Hands off Our BBC campaign.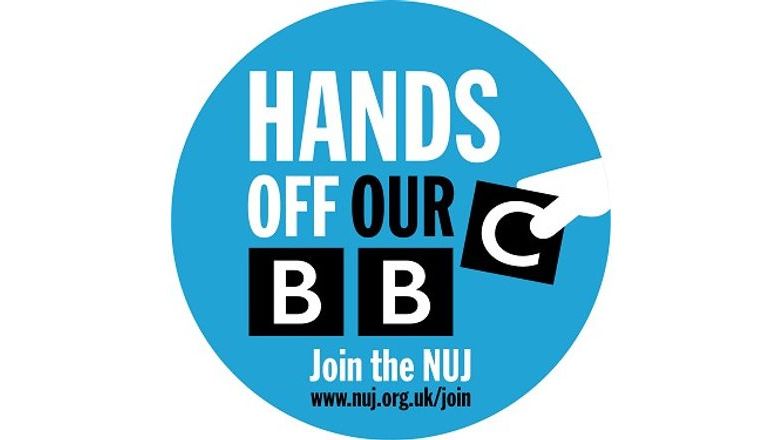 The government is holding an inquiry into the decriminalisation of the BBC. This is a sham consultation. Johnson's party wants to "prune" the BBC and ...