DM2023: tribute to Dom Phillips
Domonique Davies, niece of the environmental journalist killed in Brazil, spoke to conference.
DM2023 welcomed Dominique Davies, Dom Phillips' niece as a special guest to conference.
She said new hope had been rekindled for the future when reflecting on the progress president Lula had made regarding the environment, in comparison to his predecessor Jair Bolsonaro. She told delegates about the "For Dom, Bruno and the Amazon" event and exhibition hosted at the NUJ's headquarters last year created by Davies, her sister Rhiannon, Alison Cahn and Friona Frank from Halton Mill in Lancaster, in response to Dom and and indigenous expert Bruno Pereira's murders. The exhibition was set up at the conference centre for delegates.
Domonique said the exhibition highlights important issues that remain including illegal fishing, mining and deforestation, despite progress made. She shared that the exhibition in many ways paralleled Dom's book, How to Save the Amazon, that will be published by journalists and colleagues. Future research trips to the Amazon will also take place by the team in part, to help achieve goals Dom was working towards.
Delegates heard of the importance of action by the international community. "Their story is not just one of two men killed in the forest. It is one of the rights of the rainforest, and the protection and preservation of indigenous peoples and culture." Domonique urged individuals to understand the steps they could take to challenge political regimes who do not do enough for the preservation of indigenous peoples and culture."
Delegates gave her a standing ovation and Pierre Vicary, NUJ president extended his thanks on behalf of conference.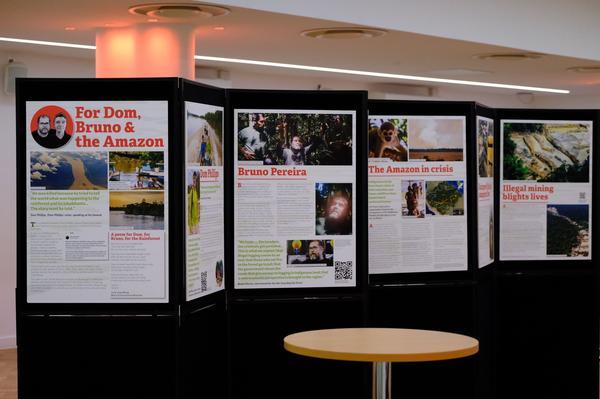 Exhibition at DM2023