David Lorimer, Teesside legend & friend of The Green Howards, dies
One of the real characters of Teesside journalism, proud Yorkshireman and former Gazette chief reporter and news editor, David Lorimer, has died after a long battle with COPD.
Tribute by Nic Mitchell.
Born in 1945 and educated at Leeds Grammar School, Lorimer – as he was usually known – formed a long and close association with The Green Howards, now part of the Yorkshire Regiment. He regularly reported from their tours of duty, especially from the front line during 'The Troubles' in Northern Ireland and received a North East Press Award for his coverage from Kosovo.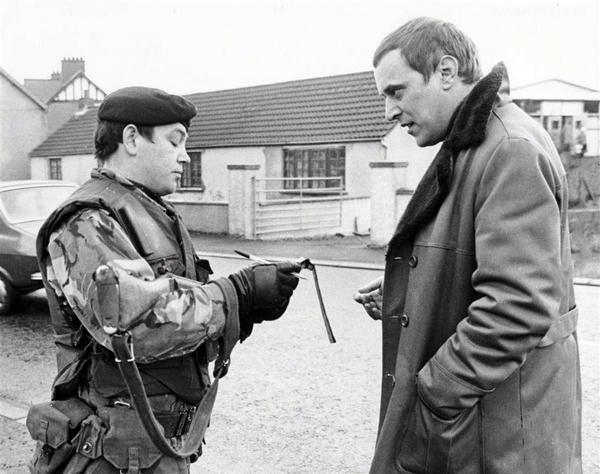 He continued his links with Green Howards after leaving the Evening Gazette in 2001 and visited the battalion while it served in Afghanistan in 2004 and to Bosnia in 2006.
And his fondness for Teesside's own army regiment was mutual, with General, the Lord Houghton of Richmond, saying:
"All Green Howards will be saddened by the news of David Lorimer's death. He was, for 50 years, a loyal and intimate supporter and reporter of our Regimental fortunes.
"He provided, through the Gazette, an essential link between the Regiment's adventures, its characters and the heartland of its family in Middlesbrough. He did so with humour, integrity and an affection that all in the Regimental family recognised and appreciated. He will be sadly missed by us all".
Tributes from old newsroom colleagues flooded in following news of his passing on.
Ex-Gazette chief photographer and former NUJ Father of the Chapel, Dave Jamieson, said:
"He was first-class reporter and a great NUJ stalwart who was always there when we had our Gazette strikes. I remember being with him when he was given the tip-off about the Cleveland child sex abuse story in the pub and went with him to Northern Ireland where we had some memorable moments."
Martin Gould, another former Gazette NUJ Father of the Chapel now working for the Daily Mail in New York in the US, recalled on Facebook how Lorimer sought him out after 30 years as he knew his time was nearly up and wanted to make contact before "stumps were drawn". Martin said:
"Like many, I found Lorimer a force of nature, one of those newsroom figures who can never be replaced. I remember how after we negotiated an hour off the working week management insisted we took it 12 minutes a day, so at 4:18 every afternoon, Lorimer would lead the call of 'Hi-Ho' and we'd all traipse out on the minute.
He was "a cracking journalist", said another former Gazette colleague, Paul Frost, who said: "The inky trade has lost a great character and a wonderful raconteur."
One of his proudest moments was being presented with honorary membership of The Green Howards and receiving a Statuette from the Green Howards Association during a regimental reunion in Middlesbrough in 2015.
Author and photographer Captain (retired) Tom Wharton said he last saw David about a year ago when he called at his home in Redcar to personally present him with a copy of his book 'Operation Banner, the Green Howards in Ulster, 1970 to 2004' in which David Lorimer features prominently.
"He was not well and remained in bed throughout, but what was meant to be a quick call of a few minutes turned into three hours of conversation."
When I visited David a few weeks later as a fellow Teesside NUJ life-member, he was so proud at being mentioned in despatches in the book. Although we hardly agreed on anything politically, David was a true friend to the NUJ as well as The Green Howards and was one of the first to check on me when I was fighting my battle with cancer. Like Tom, I found that despite him not being well a quick visit would see us discussing everything from Brexit to the short novels of Chekhov for hours.
Fellow Gazette newsroom colleague, Tony Webster, said: "David Lorimer had an inter-planetary capacity for life and everything that involved" and recalled a few summers ago when a small group of his old ex-colleagues arranged to see him in Redcar.
"Instead of meeting at his home, David said we should meet at a café on the Redcar seafront and at the appointed hour he arrived in his wheelchair with a rucksack on the back containing his oxygen supply and he then held court for two hours covering everything from how he would shake up the BBC to reorganising training methods in the Welsh rugby union team."
Teesside Live editor Ian McNeal said:
"David was hugely respected in North East journalism and a towering figure in the Gazette newsroom for decades."
David died peacefully at home in Redcar on December 2 and is survived by his wife Helen and children Victoria, James, Nicky and grandson Atlas.