Coronavirus TUC guide (January 2021)
The coronavirus pandemic has created an unprecedented situation for public health and the economy. Thousands of lives have been lost in the UK and worldwide, as many workers continue to put their lives at risk.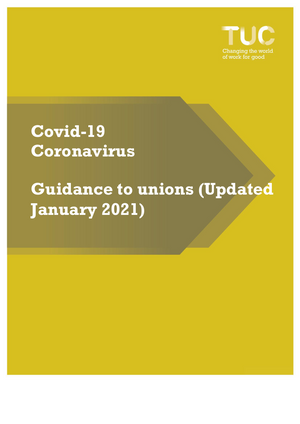 This guide is for trade union reps, designed to give you an understanding of the workplace issues in the context of Covid-19 and to provide support in being effective at negotiating with employers steps that can be taken to best protect the health and safety of the workforce.
It is vitally important that workers understand their right to safety in the workplace. It is an employer's legal duty to introduce health and safety measures to protect workers from illness and injury – and Covid-19 safety measures are no exception.
Nobody should be made to work in unsafe conditions. If you have a concern about your safety at work, speak to your union.
Download the resource