Photographers leaflet
Are you a photographer or videographer? If so, you should join the NUJ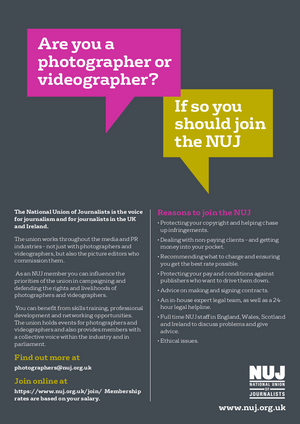 The National Union of Journalists is the voice for journalism and for journalists in the UK and Ireland.
The union works throughout the media and PR industries – not just with photographers and videographers, but also the picture editors who commission them.
As an NUJ member, you can influence the priorities of the union in campaigning and defending the rights and livelihoods of photographers and videographers.
You can benefit from skills training, professional development and networking opportunities.
The union holds events for photographers and videographers and also provides members with a collective voice within the industry and in parliament
Download the resource